High on the Hog: How African American Cuisine Transformed America
(2021)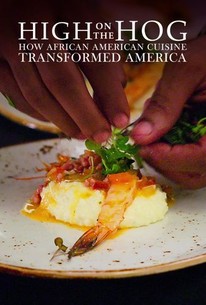 Where to watch
Subscription
Rate And Review
High on the Hog: How African American Cuisine Transformed America: Limited Series Photos
Cast & Crew
Audience Reviews for High on the Hog: How African American Cuisine Transformed America: Limited Series
High on the Hog (TV 2021): How African-American cuisine transformed America. It's a food show, but it's also a history show. From Benin to South Carolina to Philadelphia to Texas, our nation's menu was created by Blacks. Stephen Satterfield finds the culture behind the menu. B+

Terrific, Amazing. Astounding. Moving. Host Stephen Satterfield's demeanor is so calm and affecting in relaying the tragic history and connections here it ascends beyond a mere food docu-series. It's brilliant.

Only intended to watch the first five minutes and stayed glued to the end of the episode. I had a trip to Benin cancelled because of the pandemic. That would have been my first time to West African. Now, I absolutely cannot wait to go.

Not worth the watch. Also leaves a lot of other cultures contributions (specifically Native/Indigenous/Mestizo/Mexican) to American diet completely out of the Picture.

It gets a lot wrong historically by exaggeration and trying to stick on theme. That's a shame because they don't need to to tell an amazing story of the influence, life, and culture here.

This was so well done. I wasn't expected to feel so emotional after watching , but wow. Amazing!

Powerful. Entertaining. Inspiring. Informative. This mini series is thought provoking, beautiful, at times heart breaking, but also ultimately uplifting. I started watching this because I love the subject matter, but I kept watching it because I love people. This is what any form of entertainment should strive to achieve.
See Details