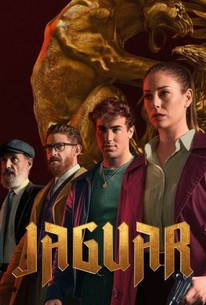 Where to watch
Subscription
Rate And Review
Audience Reviews for Jaguar: Season 1
Incoherent and non-stop dumb dialogues and totally implausible scenes, in particular the action scenes. Very disappointing, even more so since the story is based on the true and tragic historical background of the Nazi horror in the death camps where at the end of the war many senior Nazi leaders escaped to Spain or via Spain. So there was enough substance to create an intelligent movie. This dumb series is pretty much the opposite. Very disappointing and disturbing. Almost a shame, given the seriousness of the theme.

This show lost me completely when in an early episode a horse was deliberately killed by a lead character. I am deeply disgusted and offended by this - or any animal cruelty - being shown or implied on screen. Awful!

Good action, but for the love of $#!+ do something with Isabel's hair!!! We are supposed to believe that she's passing for a lady in society, on the arm o

The season started out a bit confusing and there were a couple of episodes in the middle that seamed to drag but then the last several episodes built the excitement and tension. Overall, I would give the season an 8 out of 10 but the last episode ended with so many unanswered questions that I'm hoping for at least 1 more season and honestly if the writers do it right I'll be watching seasons 3 & 4 also.

Ripping yarn in the Nazi hunting genre.
See Details