SEASON: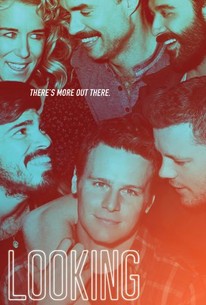 Tv Season Info
The second and final series of this HBO dramedy created by Michael Lannan continues to follow Patrick and his best friends, Dom and Agustín, as they navigate through the obstacles of life and romance in San Francisco. Patrick pursues his dream job of becoming a video-game designer as he tries to find love within a complicated relationship; while Dom still yearns to open a restaurant despite his financial woes; and Agustín is both inspired by and fearful of his involvement with a new romantic partner.
News & Interviews for Looking: Season 2
Audience Reviews for Looking: Season 2
½
Season 2 of Looking got even better. Patrick struggled to balance his relationships with Kevin, his boss and Richie, now with a new boyfriend. Dom tries again with his restaurateur dream but it made his friendship with Doris harder. Augustin met a new guy who is HIV positive and had trouble adjusting. The story was more consistent and wittier than the first season. Raw emotional drama was ensured.
This Sunday (1.11.15) marked the return of three boys from San Fran, struggling to keep their lives together amidst the chaos of their own discontent. Looking kicked off its second season with a lively and dream-like premiere episode, as Patrick, Dom, and Agustin headed to the woods for a quiet getaway turned LGBT midnight rave filled with sex, drugs, dancing, and skinny-dipping. Pat tries his hardest to refrain from wallowing in his own misery for how badly he handled his situation with Richie, who he's obviously still hung up on. And yet, the one person he can't keep off his mind is Kevin, as we learn that their secret relationship has developed since we saw them last. This is obviously an issue for Pat, considering Kevin still has a boyfriend. Agustin seemed to have gone off the deep end for a while after his break-up with Frank, accusing Pat and Dom of their getaway being a staged intervention after Pat suggests a weekend of sobriety. However, according to Pat, the weekend is solely meant to be a getaway for the three to spend time together, although secretly, he hopes for this weekend to signify the cutting of his ties with Kevin. It's not long before Doris, as hilarious and outspoken as ever, arrives and turns their calm weekend on its head, as four take Ecstasy and head to The Promised Land, a rave in the middle of the woods. To read my full review, head to HBOWatch!
Discussion Forum
Discuss Looking on our TV talk forum!