Middleditch & Schwartz: Season 1
(2020)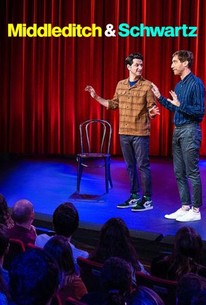 You might also like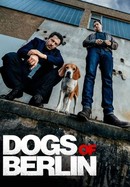 Rate And Review
Episodes
Air date: Apr 21, 2020
An audience tale of love, music festivals and parking lots leads Thomas and Ben to act out a wild wedding.
View Details
Air date: Apr 21, 2020
Law students, aliens and the state of Maryland all play major roles as Thomas and Ben create a classroom full of unusual characters.
View Details
Air date: Apr 21, 2020
An audience member recounts his unusual internship interview, leading Thomas and Ben to invent an outlandish job-seeking scenario.
View Details
Middleditch & Schwartz: Season 1 Photos
Cast & Crew


News & Interviews for Middleditch & Schwartz: Season 1
Audience Reviews for Middleditch & Schwartz: Season 1
Amazing - all 3 sets were incredible. I sincerely hope that this leads to more long form improv comedy specials.

Middleditch & Schwartz was one of the biggest suprises of the last years. The titular duo performed what is perhaps the most creative Netflix comedy special out there, running at a staggering total of three hour-long episodes of completely improvised long form comedy. Each time they craft a story full of belly laughs, recurring themes and bursting of originality, starting only from a short conversation with someone in the audience. You may know Thomas Middleditch as the main actor in HBO's massively underrated Silicon Valley and Ben Schwartz from a hilarious, supporting role in Parks & Rec. Together they are Middleditch & Schwartz, a genuinely exciting stage duo with flawless chemistry, two artists playing off each other's energy to master improv, the jazz of comedy.

All these rave reviews only go to show how low our comedy standards have become. I got about halfway through the parking lot wedding sketch (don't tell me that the people who prompted that weren't a setup). It was just plain stupid. Real improv involves people re-inventing themselves into whole new characters. OK, I'm an old guy and I still remember Nichols and May. These are just two guys laughing and mugging at their own stale jokes. Waste of time.

This is cruise ship level humor. Not likeable especially Middleditch

My God I NEEEEEEEEEEED more episodes. These two souls are just funny and talented. Please make more STAT !

Does a sensational job of capturing the energy and atmosphere of live improv and the chemistry, wit and ingenuity of Middleditch and Schwartz is addictive and joyous to watch.

one of my favorite comedy specials ever. had me in tears half the time. i cannot recommend it more

Never a dull moment with these two improv gems! Their ability to commit to the moment no-matter-what was refreshing and thrilling all at once! There are many moments of pure, laugh out loud cackles. A joy to watch!

F**k hilarious, amazing, their stories are batsh*t crazy. Can't wait for season 2. Hopefully it happens.

Evocative of old-school Who's Line is it Anyway but building up far more complex scenarios, Middleditch & Schwartz is sure to entice any lover of improv comedy with its stars' quick wits and solid timing.