Midnight Diner: Tokyo Stories
(2016)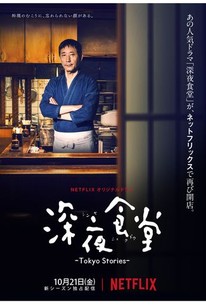 Rate And Review
Midnight Diner: Tokyo Stories Photos
Tv Season Info
In a back alley of a busy district sits a small eatery called Meshiya, referred to by its patrons as the "Midnight Diner". The little joint, which the Master runs by himself, is open only from midnight to 7:00 AM. The menu consists only of a pork miso soup set, beer, saké and shochu, but the Master's policy is to make whatever his customers request. Tonight, like every other night, a menagerie of customers flock to the Midnight Diner, where the bonds among the Master, his food and the patrons set the stage for humorous and sometimes wistful episodes of human drama that feed both the belly and the soul.
News & Interviews for Midnight Diner: Tokyo Stories
Audience Reviews for Midnight Diner: Tokyo Stories
Simple genius. Ordinary people living amid life's crossfire share gossip and news over a bowl of food that can be 'anything you want'.

Comfort food in the form of television. Every episode pulls you deeper into the feeling of friendship, security, a world that makes sense.

I love this show, the actors, the stories, the music. It's the kind of show that lets you settle in and just enjoy.

Feel good series, heart warming ♥️

The storytelling is so warm. I could imagine eating at the diner and making friends with them. Watching it makes me miss Japan even more.

In a current world of "hard and edgy" western series I'm glad i came across this healing and warm hearted series, just with a right amount of cliché

What a surprise this series turned out to be! Every episode was an absolute gem! Please, another season, I beg of you!

Midnight dinEr delivers SoMe of the most heartwarming food for SOUL i ever haD.

A delightful suprise. A calming show for a relaxing night.

Oh this is a beautiful series. Have seen season 1 & 2 and I just loved it, but it was all way too short. How I so wish that further seasons will be screened.