Scenes From a Marriage
(2021)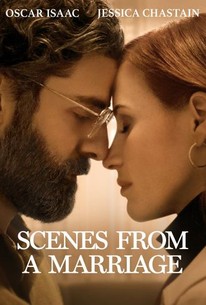 Where to watch
Buy
Buy
Subscription
Buy
Rate And Review
Scenes From a Marriage: Limited Series Photos
Audience Reviews for Scenes From a Marriage: Limited Series
films and mediums try to portray human complexities as best as they can and thats what is done here

Not trying to be unkind, quite partial to watching anything with Jessica Chastain and/or Oscar Isaac - both fabulous; also a big fan of Corey Stoll, but after trying for 1 1/2 episodes, I could do no more of this. I suppose some people can relate to this type of behaviour of the couple in the series - I don't want to meet them. There is so much talking, self reflection, navel gazing. The sheer waste of time and energy - relentless talk without getting anywhere. I suppose for those with sufficient staying power, eventually the two principal characters decide to resolve their marriage. To me it was just too exhausting and uninteresting to try and understand what their issues are. Issacs looks nice though as a stylishly disheveled professor - the beard suits him. That's what I've taken away from this. There is another one star review with lots of expletives - if you are a well adjusted person, this either will bore you to tears or make you angry.

HBO's 2021 miniseries, 'Scenes From a Marriage', is a modern adaptation of Ingmar Bergman's 1973 series. It takes some bravery to adapt Bergman, but of all of the legendary director's works, Scenes From a Marriage is perhaps one of the best suited for a remake. As the nature of marriages evolve with time, 'Scenes' might perhaps be an interesting concept to return to every few decades. As it happens, this edition tells us that even modern marriages have ancient problems. Jonathan and Ava have a picture-perfect life from the outside, but writer/director Hagai Levy takes us inside the realities of that life - deep, deep inside. Levy's brilliant writing dares to be unflinchingly intimate like few other shows are - the end result feels both joyfully and painfully real. At it's core though, a story about marriage is a two-person show, and it lives and dies by the quality of its leads. In Oscar Isaac and Jessica Chastain, we have two Actors with a capital A. These are two outstanding performances from two of the best actors of their generation.

best show i've seen in years, heartbreaking and also soooo real it hurts. jessica chastain and oscar isaac's performance is out of the charts. a must see.

Led by remarkable turns from leads Jessica Chastain and Oscar Isaac, Scenes From a Marriage dissects the dissolution of a relationship and the loneliness that comes from the failure to communicate - it should be seen in small portions, though, as it is a little bit too depressing.

Great story, and perfect performances

A tour de force for Chastain and Isaac, maybe a little too bleak and well mannered to feel completely real.

I mean.... ok i guess? jessica's character is just annoying tbh.

I can't stop crying while on the plane. That was good storyline and acting from both.

Very cerebral. Heavy on dialogue. Laden with relationship drama. Kind of hard to watch all of their relationship turmoil. Very well done, though.
See Details