The Book of Negroes: Season 1
(2015)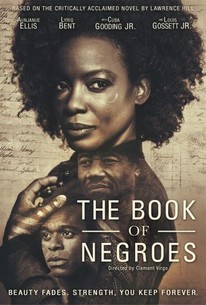 Rate And Review
The Book of Negroes: Season 1 Photos
News & Interviews for The Book of Negroes: Season 1
Audience Reviews for The Book of Negroes: Season 1
Historical tales like this can sometimes feel like homework - like "the right thing to do," or some sort of Black History Month obligation - but the creative team at work here makes The Book of Negroes a tough lesson worth learning.

Nice enough reenactments of stories and adventures that could or have happened in the slave period of the englishes. Very english point of view with no subtitles english or french. Rather disappointing from the CBC. Saw it on dvd.

-The Book of Negroes is a miniseries based on the novel of the same name by Lawrence Hill. The six-part miniseries derives its origins from the historical document Book of Negroes and tells the story of a woman forcefully brought to South Carolina from West Africa at the time of the American Revolution. Clement Virgo and Hill collaborated on writing the miniseries, with Virgo also directing. It premiered on CBC in Canada on January 7, 2015 and on BET in the United States on February 16, 2015. -The title of the series and the novel is derived from an historical document which records names and descriptions of 3,000 African-American slaves who escaped to the British lines during the American Revolution and were evacuated by the British by ship to points in Nova Scotia as freed men. Clement Virgo and series producer Damon D'Oliveira purchased the rights to Hill's novel in 2009 and began work on a feature film script. CBC and BET came on board in 2010 to develop the feature script into a six-part miniseries. -The international co-production began shooting in February 2014 in Cape Town, South Africa. Filming also took place in various locations around Nova Scotia, Canada This included the Fortress of Louisbourg portraying 18th century New York City and Canvas Town, Lunenburg harbour portraying New York harbour and Shelburne's Dock Street appearing as historic Shelburne. Filming was completed by the beginning of June 2014. Reviews: -Metacritic which uses a weighted average, assigned a score of 77 out of 100 based on 9 reviews, indicating "generally favorable reviews."

Pedestrian version of a great book. Cheap production values mar this production. A few good moments, but not worth 6 hours of your time. The lead actress is particularly annoying, partly in her portrayal and mostly due to the script. Amanata's grit and fearlessness is accurately portrayed within the historical context of the time in the book, but in the miniseries she is given a decidedly 21st. century persona. Implausible scenes abound like when she slaps or spits at Lindo or expresses indignation when he is upset that she has snuck her husband into his house and into her bed.