Call of the Simpsons
EPISODE: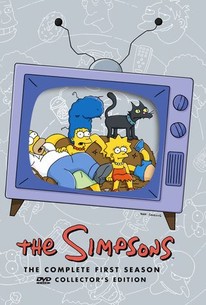 Episode Info
When his next-door neighbor Ned Flanders (voice of Harry Shearer) rolls up with a fancy new mobile home, Homer Simpson (voice of Dan Castellaneta) becomes jealous and decides he needs an RV of his own. However, given the dismal state of his credit rating, Homer has to settle for a used camper that's on its last legs. Undaunted, Homer rounds up the family and they set out for a camping trip; the Simpsons barely escape when the camper rolls over a cliff, and they find themselves forced to fend for themselves in the wilderness. Homer and Bart (voice of Nancy Cartwright) volunteer to find civilization and come back to rescue Marge (voice of Julie Kavner) and Lisa (voice of Yeardley Smith), but a series of misadventures causes Homer to lose his clothing and he's soon captured by scientists convinced he's Bigfoot, while baby Maggie is adopted by a family of bears. Albert Brooks makes a guest appearance as the voice of Bob, the RV salesman. "The Call of the Simpson" was first aired on February 18, 1990.
Call of the Simpsons Photos
Discussion Forum
Discuss The Simpsons on our TV talk forum!