Quid Pro Quo
(2008)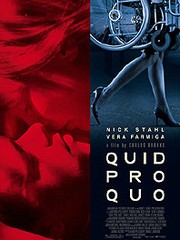 TOMATOMETER
AUDIENCE SCORE
Critic Consensus: Despite a stunning performance by Vera Farmiga, Quid Pro Quo never develops its effective parts into a convincing whole.
Tickets & Showtimes
Quid Pro Quo Trailers & Photos
Movie Info
A man who can't walk meets a woman who envies his condition in this offbeat black comedy. Isaac Knott (Nick Stahl) lost the use of his legs when he was eight years old in an auto accident that also claimed the lives of his parents. Despite being confined to a wheelchair, Isaac has enjoyed a successful career as the host of a talk show on a New York City public radio outlet. One day, Isaac is told an odd story about a man who arrived at a local hospital and demanded to have his legs amputated; the man was part of a secret subculture of able-bodied folks who wish to be paraplegics, using wheelchairs when they can and attempting to deaden their legs through artificial means. Isaac becomes fascinated with the idea of these wannabes, and begins studying the phenomenon for a piece on his show. Isaac's research leads him to Fiona (Vera Farmiga), a sexy but mysterious blonde who collects and restores Chinese art. Fiona is also the owner of a wheelchair she doesn't really need, and Isaac, who is increasingly attracted to her, wants to know all about her role in the fake-paraplegic underground. However, Fiona isn't about to give away any of her secrets for free, and Isaac discovers that the exchange of information and trust goes deeper the longer they know one another. The first feature film from writer and director Carlos Brooks, Quid Pro Quo received its premiere at the 2008 Sundance Film Festival.
more
Cast
News & Interviews for Quid Pro Quo
Critic Reviews for Quid Pro Quo
Audience Reviews for Quid Pro Quo
Curtis Lilly
Super Reviewer
Quid Pro Quo is burdened with flaws, a tiny indie addressing a challenging subject with all the intelligence and moral rationality of your generic people-pleasing blockbuster. Nick Stahl's narration leaves nothing up to the imagination, filling in the ideological bubbles for the audience - and if they're taking the time to watch a film like this, I'm sure they don't need it. The script is far too shallow and unfair to even justify this movie getting made. Sexual deviance here is uniformly attacked as a sign of mental illness, and though there are sound arguments as to the sanity of someone who would willingly paralyze themselves to fulfill a fetish, Quid Pro Quo doesn't even let the innocent get away. Stahl meets the group of people who teach him of this lifestyle literally underground, in a dank basement under some anonymous building. The message the film is trying to send is clear - those with unconventional sexual views are somehow "dark."

But if you're starting to think I'm one of those crazy bastards who nitpicks the hell out of a movie trying to isolate some phantom ideology, let me assure you that the movie also sucks on other terms. Another casualty of the lousy writing, the plot is absolutely awful, telegraphed painfully far in advance. The twists are so easy as to almost be insulting. Quid Pro Quo throws around a few flashy visual tricks, but to no real effect; the aesthetics don't support any sort of tone or theme at all, and the camera work is just artsy for the hell of it. The music is really, really cheesy.

The only real reason to watch this is Vera Farmiga's interesting, technically-able performance as a woman irrevocably chained to her sexuality. She is two parts sad, three parts insane and five parts compulsively watchable. The character is not very well done, but her performance props it up just enough to sell it. Nick Stahl is serviceable but the character is even less interesting.
Highly charged film about a very dark subject and a not often discussed subculture. A year ago this viewer had never heard of Vera Farmiga. But, the more I see of her work, the more impressed I become. Fiona (Farmiga) is a very disturbed young woman with a secret. Isaac (Nick Stahl) is a paraplegic public radio story teller who gets drawn into Fiona's world and uncovers a truth about himself that he ultimately does not want to face. Powerful performances propel the story that is at once sexy, disturbing, and revealing. Sexy, without being crude, disturbing without being gloomy, and revealing without being voyeuristic. This viewer was fascinated by the story, the acting, and the characters. Atmospheric lighting, and tight cinematography, along with good pacing kept this viewer glued to the screen. At under 90 minutes, this film said a lot in a short amount of time. Four stars.
Discussion Forum
Discuss Quid Pro Quo on our Movie forum!
News & Features