Across The Hall
(2009)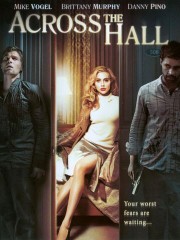 AUDIENCE SCORE
Critic Consensus: No consensus yet.
Across The Hall Trailers & Photos
Movie Info
An expanded version of his 2005 short film of the same name, director Alex Merkin's feature-length noir thriller follows the tense stand-off between a young man, his unfaithful fiancée, and his best friend. Terry's fiancée, June, is having an affair. After following June to a run-down hotel on the far side of town, Terry quietly rents a room across the hall. With a bottle of whiskey and a loaded gun, he calls his best friend, Julian, and spills his guts. Realizing that it's only a matter of time before Terry goes off, Julian begs his friend to remain calm long enough for him to get to the hotel and diffuse the situation. Cloverfield star Mike Vogel appears opposite Brittany Murphy and Danny Pino in a film penned by Merkin and Jesse Mittelstadt -- the same co-writers who collaborated on the original short.
more
Watch it now
Cast
News & Interviews for Across The Hall
Critic Reviews for Across The Hall
All Critics (1) | Top Critics (1) | Fresh (0) | Rotten (1) | DVD (1)
. Merkin tries too hard for stylistic flourishes (as the hyper set-designed, claustrophobically seedy hotel underscores) and winds up almost sinking the noir-ish tale he's telling.
Audience Reviews for Across The Hall
Shall I be honest with you? I think I will. There's a plot twist in the middle of the movie. The thing about this plot twist is that I guessed said plot twist reading the back cover of the DVD. This is a better move than my Matchstick Men trailer prediction. So be warned for some predictability.



Across the Hall follows the adventures of Terry (Danny Pino) as he sits in a hotel room across the hall from his fiance June (Brittany Murphy) who is engaging in carnal knowledge behind his back. Julian is hung up on this girl to the point that he steals his friend Julian (Mike Vogel) gun and plans on using it on the happy couple. It's up to Terry to keep Julian calm over the phone until he can arrive and help defuse the situation.



This was originally a short film expanded into a full length feature. I haven't seen the short but it probably works better than this mess. I'm willing to bet that you can guess the twist from my synopsis above. That's fine. I tried.


This is low budget suspense at its finest, meaning it sucks. Horrible acting and characters doing stupid things all around. Let's be honest- if a guy comes into your hotel and demands the room across the hall from the woman that he was checking the ledger for you should just take his money and then call the cops because they're just going to show up anyway. It's used as a plot device later in the film (poorly) so let's not spoil it. I could say that the acting is horrendous, but I can't tell if it's the actors or the script. This is expanded garbage that tries to be inventive but outsmarts itself by not remembering that audiences are looking for that twist. This isn't 1980 anymore. It's a new millennium, act like it. If you like to play an easy guessing game then this is the film for you.
This movie was okay....very obvious as the concept prolonged itself gripping for suspense.There was a certain kind of poetic justice in it.
Discussion Forum
Discuss Across The Hall on our Movie forum!
News & Features