Arthur
(1981)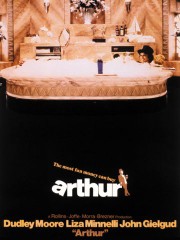 Arthur Trailers & Photos
Movie Info
The ads for Arthur suggested that this was an obnoxious film about an obnoxious man, an eternally drunken millionaire indulging his every whim. Instead, Arthur (Dudley Moore) is a sweet, somewhat pathetic character whose millions have left him lonely and with no motivation in life. When the film opens, Arthur is on the threshold of an arranged marriage with simpering socialite Susan (Jill Eikenberry), whom he does not love. Everyone expects Arthur to behave himself, but nobody truly cares for his well-being, with the exception of father-figure butler Mr. Hobson (John Gielgud, who won an Oscar for his performance) and blue-collar shoplifter Linda (Liza Minnelli). Arthur would prefer to marry the lowly Linda, but his iron-willed grandmother (Geraldine Fitzgerald) threatens to pull the plug on his huge inheritance if he doesn't honor his position in life and go through with his marriage to Susan. A sequel, Arthur 2: On the Rocks, followed in 1988.
more
Orion Pictures Corporation
Cast
News & Interviews for Arthur
Critic Reviews for Arthur
Audience Reviews for Arthur
Jim Hunter
Super Reviewer
½
I saw the 2011 Athur first, and it sucked. This older version is a comedy classic. The story is about Arthur (Dudley Moore), a drunken millionare who gets money from his father. When his father gives him an ultimatium, marry a woman he hates or not marry her and he is cut off from the money, he must choose if he wishes to be rich or stay with his new love (Liza Minneli). The story was great, it was funny, good hearted, and a classic tale of a drunken fool. Dudley Moore was great, his drunken slander will make you laugh your butt off. I was also a big fan of John Gielgud (Mr. Hobson) his smart assness is just so funny. The comedy is great, well written and original, and will make you laugh. Liza Minelli was never funny in this, but thats her characters fault, not hers. Arthur is anamerican classic.
Jim Careter
Super Reviewer
½
I only heard about this film after hearing about the remake with Russell Brand in the role of Arthur Bach. Like with every other remake, I will always view the original film to see which one I preferred. Well, I was pleasantly surprised that I enjoyed both. The remake essentially kept everything intact, but made the comedy a little bit raunchier for today's audiences. But this original and whimsical comedy about a drunken playboy is a lot of fun. As I enjoyed very much the remake, I thought that the original was terrific as well. The comedy here is sharp, witty, original and amusing. Actor Dudley Moore is enjoyable on screen as Arthur Bach, and the rest of the cast here are terrific as well. This is a charming comedy that has good laughs, but above all, an interesting story. I however didn't think that Dudley Moore was the best on screen. I thought he was good, but I thought that John Gielgud in the role of Mr. Hobson was what made this film special. I just loved his sarcastic and snobbish quips and his chemistry with Moore was wonderful. If you've enjoyed the remake, and want to see this classic, then I suggest you do. You're in for a pleasant viewing experience. I thought that both films were fun and charming, but obviously nothing beats an original film.
Arthur Quotes
Arthur Bach: I'm going to take a bath now.
Mr. Hobson: I'll alert the media.
Mr. Hobson: If I begin to die, please take this off my head. It is not how I wish to be remembered.
Arthur Bach: You must have hated this moose...
Arthur Bach: Don't you wish you were me? I know I do...
Discussion Forum
Discuss Arthur on our Movie forum!
News & Features