The Blob
(1988)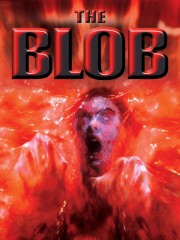 The Blob Trailers & Photos
Movie Info
After the phenomenal box-office and critical success of David Cronenberg's 1986 remake of The Fly, a series of big-budget remakes of '50s horror favorites rode in on its coattails in the late 1980s -- though none managed to rise above mere camp clones of their elders, albeit garnished with modern makeup effects in an attempt to draw modern teen horror-junkies. One remake that managed to live up to its cheesy inspiration was Chuck Russell's version of The Blob, in which the title goo crashes to earth and promptly begins digesting the residents of a small California town while growing to gargantuan proportions. The clean-cut teen hero originally portrayed by Steve McQueen (his first starring role) is replaced here with a rebellious outsider (Kevin Dillon) whose preppie rival (Donovan Leitch) for the affections of the cute heroine (Shawnee Smith) is quickly eliminated by the all-consuming space-gelatin. No sooner has the plasma menace set up house in the town sewers when a shadowy government Blob Squad shows up under the direction of the grandfatherly Dr. Meddows (Joe Seneca), to clean up the mess... or not. This high-spirited remake replaces the '50s "Daddy-O" conventions of the original with '80s cynicism -- not even likeable characters are spared from the slaughter -- and anti-government sentiment. It also pushes the gore envelope in ways unavailable to its low-budget parent -- e.g. the scene in which one victim is sucked through a sink drain was only hinted at in the 1958 film, but here viewers are treated to the entire bone-crunching ordeal. Though the quality of blob effects seems inversely proportional to the creature's size (some of the climactic "wall-of-blob" footage is painfully cheap-looking), the end result is more blob for the monster-movie fan's dollar.
more
Sony Pictures Home Entertainment
Cast
News & Interviews for The Blob
Critic Reviews for The Blob
Audience Reviews for The Blob
80's camp with wonderfully stereotypical characters. Not nearly as good as the original but has it's own cheesy charm.
Randy Tippy
Super Reviewer
This remake of the 50's cult classic was a very enjoyable thrill-ride of a movie - and a surprisingly gory one too! The gore effects are superb and the Blob creature has been brought to life as effectively as it could be for an 80's movie without being too cheesy. In my eyes it deservedly earns a spot on a list of best horror movie remakes next to the likes of Carpenter's 'The Thing' and Cronenberg's 'The Fly'.
The Blob Quotes
Dr. Meddows: I want that organism alive!
Meg Penny: You don't believe either, do you?
Scott Jeskey: (talking to Vikki as she's in the car sleeping?) Hot as a dog out there tonight. That's a, That's a nice blouse. Nice material. It must be hot, though. I'll just undo one of these for you. That's better, huh? Oh, no? Oh, well. I'll just, undo another one then. Okay. (The Blob pours out of Vikki's body) OH GOD, VICKI!!
Vicki De Soto: What are all those lights down there? Isn't that the hospital?
Scott Jeskey: It's probably a promotional gimmick. They're giving away free tonsillectomies.
Discussion Forum
Discuss The Blob on our Movie forum!
News & Features