Carnival of Souls
(1962)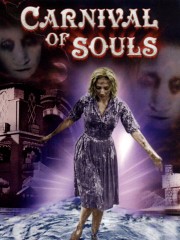 Tickets & Showtimes
Carnival of Souls Trailers & Photos
Movie Info
Mary Henry is enjoying the day by riding around in a car with two friends. When challenged to a drag, the women accept, but are forced off a bridge. It appears that all are drowned, until Mary, quite some time later, amazingly emerges from the river. After recovering, Mary accepts a job in a new town as a church organist, only to be dogged by a mysterious phantom figure that seems to reside in an old run-down pavilion. It is here that Mary must confront the personal demons of her spiritual insouciance.
more
Herts-Lion International Corp.
Cast
News & Interviews for Carnival of Souls
Critic Reviews for Carnival of Souls
Audience Reviews for Carnival of Souls
After a tragic car crash during a drag race, the sole survivor, a Kansas woman named Mary takes a job playing the organ at a church in Utah. On her journey ot Utah she begins experiencing ghostly visions and odd compulsions to visit an eeir abandoned carnival. Things get even weirder and more spooky from there, and her attempts to live a normal, quiet life seem all but impossible to do.

Released in the early 1960s, this is a low budget indie before that concept really became what it is today. It might a horror film with a bunch of no names and little funds, but it makes the msot of what it has, and the result is a surprisingly fun and creepy atmospheric chiller that has become quite successful in the nearly 50 years since its release.

The cinematogrpahy is surprisingly quite good, with the visuals being reminiscent of European arthouse fare as well as a bit of film noir. The acting is a bit stiff and wooden, and some of the makeup looks a bit cheesy in hindsight, but comared to a lot of stuff that came out after it did, these could have been far more terrible.

The key to this film's success is in its atmosphere, which is quite excellent, and really strengthened thanks in large part to the film's organ score which is really hypnotic, creepy, and mesmerizing. The film has a heavy Twilight Zone vibe to it, and the increasing moodiness and bizarreness of events make for a fun little horror yarn.

All in all, this is a strong effort given the circumstances, and I really liked it. I get the impression that I should love this, but even though as of now I merely just really, really enjoyed it, I think I could see myself eventually falling in love with it. If you want an entertaining and eerie film that helped set a certain standard for future similar films, then you need to give this one a watch.
Chris Weber
Super Reviewer
A film that creeps up on you and delivers. With breathtaking cinematography and direction, It's not just any regular old B-movie.
Carnival of Souls Quotes
Landlady: Take all the hot baths you want. I'm not one to fuss about a thing like that.
Mary Henry: To me a church is just a place of business.
Mary Henry: It's funny, the world is so different in the daylight. In the dark, your fantasies get so out of hand. But in the daylight everything falls back into place again.
John Linden: That's just what I need! Get mixed up with some girl who's off her rocker!
Discussion Forum
Discuss Carnival of Souls on our Movie forum!
News & Features