Julius Caesar
(1953)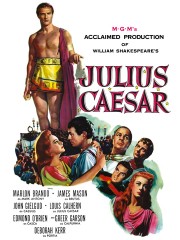 Julius Caesar Trailers & Photos
Movie Info
Joseph L. Mankiewicz directed this exquisite version of William Shakespeare's play. Louis Calhern is Julius Caesar, whose conquests have enabled him to rise to the status of Roman dictator. But his ascent to almost God-like status has given pause to influential members of the Roman Senate. Chief among them is Cassius (John Gielgud), who is troubled by Caesar's popularity and dictatorial status. Convinced that Caesar's assassination would be the best thing for Rome, he conspires with Casca (Edmond O'Brien) and the influential Brutus (James Mason) to plot Caesar's murder. Despite dark omens, Caesar walks confidently into the Roman Senate, where he is stabbed to death by the conspirators. His companion Marc Antony (Marlon Brando) is shocked and runs to the corpse of his beloved friend. He agrees to support Brutus while an unruly mob gathers in front of the Senate doors, having heard rumors of Caesar's assassination. Brutus convinces the mob that Caesar's death was for the good of Rome, preventing him from forming a monarchy. Then Antony appears, determined to destroy the conspirators; he delivers a speech that subtly damns the assassins. With the mob against them, the conspirators are forced to flee Rome and Antony organizes an army against them. ~ Paul Brenner, Rovi
more
Cast
News & Interviews for Julius Caesar
Critic Reviews for Julius Caesar
Audience Reviews for Julius Caesar
A good production of Caesar, the cast does a good job. It could have been more exciting or interesting, but for a presentation of a classic like this it's good.
[font=Century Gothic]This version of "Julius Caesar" is a dynamic take on the William Shakespeare play about politics with a great American/English cast. So great in fact that Greer Garson and Deborah Kerr are relegated to bit parts and Edmond O'Brien, no matter how much I like him, is slightly out of place in ancient Rome. If there is a problem with this production, it is that Marlon Brando botches the big "Friends, Romans, Countrymen" speech by bellowing it from the start. I know Mark Antony is angry at the death of his friend, Julius Caesar(Louis Calhern), but Brando should have let the speech build to a crescendo when the crowd takes over. And even though Brando may be the big star here, this is is not his movie. Not by a long shot. Instead it belongs to James Mason, giving a magisterial performance as noble Brutus who is naive enough to think that joining the conspiracy would make Rome freer, instead of in reality making it something much worse.(Louis Calhern playing Caesar as a noble statesman alone deflates much of the conspirators' rhetoric about him being a tyrant.) Brutus has the ear of Caesar, so there should have been no reason for him to resort to political violence which never ends well.[/font]
Discussion Forum
Discuss Julius Caesar on our Movie forum!
News & Features