Lilies of the Field
(1963)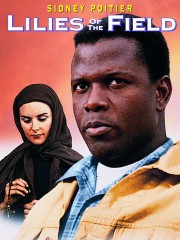 Tickets & Showtimes
Lilies of the Field Trailers & Photos
Movie Info
In this film, a traveling laborer meets five nuns in the Arizona desert. The appearance of Homer Smith convinces the Mother Superior he is an answer to her prayers. He wins the hearts of the nuns and the thanks of the town, as initial reluctance turns into public acceptance.
more
Twentieth Century Fox Home Entertainment
Cast
News & Interviews for Lilies of the Field
Critic Reviews for Lilies of the Field
Audience Reviews for Lilies of the Field
Jim Hunter
Super Reviewer
½
Sidney Poitier won an Oscar for his role in this story of the unusual collaboration between a group of german nuns and a traveling construction worker. He plays the unusually named character "Homer Smith" (or as the mother superior called him, 'SCHMIDT!!'), a who's man driving across the south-western United States looking for work when he stumbles upon a small farm that turns out to be a rural convent. When Mother Maria (Lilia Skala) gets ahold of "Schmidt", she convinces him to repair the roof, and leads him to believe he will be paid for his service. She also tells him he has been sent by God to help them, so Schmidt should know what he's gotten himself in for. After a few days of general helping out, Mother Maria lets Schmidt know the real reason she wants him there: she wants him to build a church for them. Homer at first refuses, but soon caves in as he feels something for the women, and a white man's suggestion that he's too inferior to do such a thing lights a fire in him. He takes a job driving a bulldozer in order to make money for food (their spartan, 'one egg an a glass of milk' catholic breakfasts aren't enough to feed a man doing all this work), and soon, with the help of the community, is building the church just as Mother Maria believed he would all along. This film is quite unusual for it's time, in that a black man is playing a role that could've just as easily gone to a white man (apart from a brief scene involving racism, which could've been easily re-written), and race doesn't really play a part in this movie. In fact, this film probably focuses less on race than many of the modern films of today would, given the same subject matter. The nuns, other than Mother Maria, are virtually indistinguishable, (perhaps because they only speak in german) and are underdeveloped as characters. Mother Maria herself is quite a character though, she refuses to give any thanks or credit to Homer for all the work he does (and the fact that she's he one in need and doesn't have a cent to pay him with, makes her arrogance all the more inconsiderate). The fact that the character is being played by a black actor gives the whole relationship an uncomfortable aspect. Poitier does give it his charming all, and a few scenes are especially memorable, such as when Homer teaches english to the nuns. Overall however, this film is incredibly lightweight and in constant danger of running out of developments interesting enough to keep it going. A pleasant diversion, none-the-less.
Devon Bott
Super Reviewer
½
Poitier does his usual thing..this time giving a grand performance with a bunch of nuns. While the move is good, it does border on poor sentimentality. For this reason alone, I deduct a half star.
Discussion Forum
Discuss Lilies of the Field on our Movie forum!
News & Features