Rear Window
(1954)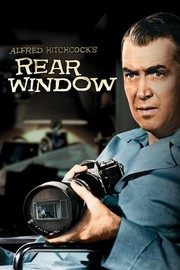 Rear Window Trailers & Photos
Movie Info
Laid up with a broken leg, photojournalist L.B. Jeffries (James Stewart) is confined to his tiny, sweltering courtyard apartment. To pass the time between visits from his nurse (Thelma Ritter) and his fashion model girlfriend Lisa (Grace Kelly), the binocular-wielding Jeffries stares through the rear window of his apartment at the goings-on in the other apartments around his courtyard. As he watches his neighbors, he assigns them such roles and character names as "Miss Torso" (Georgine Darcy), a professional dancer with a healthy social life or "Miss Lonelyhearts" (Judith Evelyn), a middle-aged woman who entertains nonexistent gentlemen callers. Of particular interest is seemingly mild-mannered travelling salesman Lars Thorwald (Raymond Burr), who is saddled with a nagging, invalid wife. One afternoon, Thorwald pulls down his window shade, and his wife's incessant bray comes to a sudden halt. Out of boredom, Jeffries casually concocts a scenario in which Thorwald has murdered his wife and disposed of the body in gruesome fashion. Trouble is, Jeffries' musings just might happen to be the truth. One of Alfred Hitchcock's very best efforts, Rear Window is a crackling suspense film that also ranks with Michael Powell's Peeping Tom (1960) as one of the movies' most trenchant dissections of voyeurism. As in most Hitchcock films, the protagonist is a seemingly ordinary man who gets himself in trouble for his secret desires. ~ Hal Erickson, Rovi
more
Cast
News & Interviews for Rear Window
Critic Reviews for Rear Window
Audience Reviews for Rear Window
Masterful Hitchcock motion picture; filled with mystery, humor, suspense and a fluid direction. Rear Window is a classic film led by James Stewart and comprised of plenty of homages to American cinema in the mid-1900s. 4/5
Alfred Hitchcock is a cinematic tour de force when it comes to crafting some of the most memorable and exhilarating suspense thrillers ever to grace the screen. Rear Window belongs among the directors finest works, this is a film that steadily builds up the tension, and what makes this such a unique film is the fact that Hitchcock uses a simple concept to tell a broader story. In turn, the suspense is much more solid and delivers a solid two hours of thrills. Jimmy Stewart delivers a great performance here, and he has great on-screen chemistry with Grace Kelly. This ranks among Hitchcock's best works, and the simplistic plot leaves so much to the imagination, which in turn makes for a truly memorable and taut filmgoing experience. Fans of suspense films will surely enjoy this film, and thought it's a slow film, it works well because the best films take its time to unfold, and that's the case with Rear Window. In terms of a classic thriller, Rear Window is one of the finest genre films to ever grave the screen, and it proved once again that Alfred Hitchcock was one of the finest directors to tackle the genre, and it cemented his stature as the master of suspense even further. Rear Window mixes different elements very well, with a detective aspect to the story, which adds more depth to the simple storyline. What makes the film great is that most of the action happens in one room, and to that effect, Hitchcock uses every trick he's got to create something that will entertain you from start to finish. Rear Window is a classic thriller, one that ranks among the finest ever filmed and it only is elevated by some magnetic performances from its cast that just make this picture standout even more. The film ranks among Alfred Hitchcock's finest works.
Rear Window Quotes
L.B. Jeffries (Jeff): She's like a queen bee with her pick of the drones.
Lisa Carol Fremont: I'd say she's doing a woman's hardest job: juggling wolves.
L.B. Jeffries (Jeff): Who says I'm getting rid of it.
Stella the nurse: He better get that trunk out of there before it starts to leak.
Stella the nurse: I can hear you now, 'Get out of my life, you wonderful woman. You're too good for me.'
Discussion Forum
Discuss Rear Window on our Movie forum!
News & Features