Southern Comfort
(1981)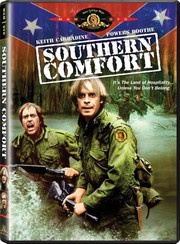 Southern Comfort Trailers & Photos
Movie Info
A handful of part time soldiers unwittingly turn a field exercise into a miniature war in this offbeat action drama from writer and director Walter Hill. A group of National Guard reservists are sent to Louisiana on a chilly weekend for war games exercises. None of these weekend warriors seem especially happy to be there, especially laid-back Spencer (Keith Carradine), tightly-wound macho man Reece (Fred Ward) and transplanted Texan Hardin (Powers Booth). While making their way through swamp country, the reservists discover their maps are out of date and they've become lost. Rather than march back to camp and start over, they decide to "borrow" several canoes they've found by the banks of the bayou, which should put them back on track. When a Cajun local catches the soldiers stealing his canoes, Stuckey (Lewis Smith) fires a few rounds in his direction; for the purposes of their exercises, the Guardsmen have been given blank shells, so Stuckey imagines this is a harmless way to scare the man off. However, the Cajun soon returns fire -- with real bullets. After Poole (Peter Coyote) is killed by a shotgun blast, the Guardsmen find themselves lost in a place they do not understand, surrounded by angry men determined to drive the unwelcome visitors off their land at all costs. A taut and atmospheric action film which is also serves as an intelligent and evocative metaphor for America's role in the Vietnam war, Southern Comfort also features an excellent score by guitarist (and frequent Walter Hill collaborator) Ry Cooder. ~ Mark Deming, Rovi
more
Cast
News & Interviews for Southern Comfort
Critic Reviews for Southern Comfort
Audience Reviews for Southern Comfort
½
A excellent paranoia thriller that takes place in a swamp in the Louisana where eight National Guard members who are on a routine reconnaissance excerise, unwillingly and intentionally start an exhausting battle of wills and survival with some Cajuns who know the swamps like if their own backyard.

Director Walter Hill ("48 Hours", "Undisputed") and his screen-writers (David Giler and Michael Kane) have unveiled an expected surprise that surpasses even my expectations of a top-notch thriller.

As for the cast, Keith Carradine and Powers Boothe emerge here to give the best performances. Boothe is good as Hardin, who came to the unit as a transfer from Texas while Carradine is the relatively easy-going Spencer. Fred Ward and Alan Autry also deliver here as two members who are both troublesome in two different ways. Ward is the bully who doesn't need much to provoke a fight with anyone and Autry is the emotionally shell-shocked soldier whose fragile feelings are rocked when the unit's leader, Sargeant Poole (Peter Coyote) is unexpectedly shot and killed.

Some of the locals that the team run into are either harmless or polite instead of being stereotyped. However, the Cajuns that are seeking revenge are about as hard to find as the shark in the first half of "Jaws".

Even a few of the Hill regulars: musician Ry Cooder, photographer Andrew Laszlo, and production designer John Vallone add another key element to the movie. The look, the feel, and especially - the music fit the atmosphere like it should be and I was satisfied with that.

A great movie and well worth checking out.
David Ladd
Super Reviewer
On exercises in the swamps of Louisiana, some National Guardsmen provoke an indigenous Cajun trapper community and find themselves systematically hunted for sport. As Robert Aldrich's "Too Late the Hero" and John Boorman"s "Deliverance" covered somewhat similar ground, "Southern Comfort" wins no prizes for originality, but it's still an excellent, unusually intelligent action movie. Walter Hill assembles a cast of dependable B-listers -- including Keith Carradine, Powers Boothe, Fred Ward, Peter Coyote and Brion James -- and Ry Cooder's bottleneck guitar perfectly compliments the hauntingly beautiful swampland scenery. The infighting of the National Guardsmen is generally well-handled, but the mutual antipathy between Ward and Boothe is rather improbably resolved . Also, considering that the Guardsmen have only been out in the swamp for a couple of days, the fact that three of them go a little doolally feels like two too many, at least. The tense finale is absolutely brilliantly executed. The use of booby-traps points the way to "First Blood", released the following year.
Southern Comfort Quotes
Discussion Forum
Discuss Southern Comfort on our Movie forum!
News & Features