The Thing from Another World
(1951)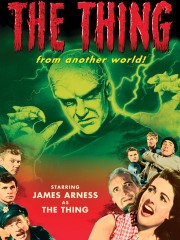 AUDIENCE SCORE
Critic Consensus: As flying saucer movies go, The Thing From Another World is better than most, thanks to well-drawn characters and concise, tense plotting.
The Thing from Another World Trailers & Photos
Movie Info
This film is set at a distant Arctic missile base, where a UFO has crashed. The frozen body of the pilot is taken to base headquarters, where it is inadvertently thawed out. The alien escapes into the snowy wastes and proceeds to wreak murderous havoc all over the base.
more
Cast
News & Interviews for The Thing from Another World
Critic Reviews for The Thing from Another World
Audience Reviews for The Thing from Another World
Devon Bott
Super Reviewer
As a group of scientists travel into the arctic regions on a normal investigation, which turns into one of the greatest discoveries in the history of mankind. They find that a UFO has crash landed on their planet and as they find another life form, they intend to bring it back for testing, unaware of what this "thing" truly is. They are now on the run, trying to corner and kill this "thing" and the suspense, even for 1951, is phenomenal. It really makes you believe that they are being chased by something that has never been seen by the naked eye. It's performances are believable, it's score is threatening, it's story is new, and most importantly, "it" is terrifying. "The Thing From Another World" is an absolute triumph for classic horror cinema. Brilliant!
An alien monster is thawed and attacks a group of military officers and scientists in the arctic.
What I like about this classic horror film is the logical process through which the main character solves the problem. There are few "why is she going down the stairs" moments (although the lights are turned out for horrific effect every now and then and the thaw moment is somewhat predicable.
I don't like the way science in portrayed. The scientist character actually says, "The best thing we can do is die and allow future generations to study this thing." Few well-adjusted scientists would actually make this argument, and with the exception of the "thing," the scientist is the villain. Balancing this character is a hawkish hero, which implies that the military response is the best - a highly disagreeable claim.
Overall, The Thing from Another World is a good suspense film, not hokey or over-blown like many from its period.
Jim Hunter
Super Reviewer
The Thing from Another World Quotes
Bob: What if that thing can read minds?
Lt. Eddie Dykes: He'll be real mad when he gets to me.
Capt. Patrick Hendry: Some day I hope to have a co-pilot and navigator who aren't wet behind the ears.
Mrs. Chapman: Did you remember my hair pins?
Nikki Nicholson: He hasn't slept. I know him and he doesn't think like we do anyway.
Discussion Forum
Discuss The Thing from Another World on our Movie forum!
News & Features