White Christmas
(1954)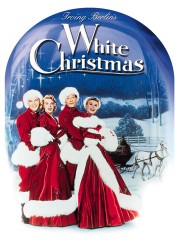 Tickets & Showtimes
White Christmas Trailers & Photos
Movie Info
This Christmas classic starring Bing Crosby is a romantic tale that takes place in a Vermont lodge- where it is almost always, a "White Christmas."
more
Cast
News & Interviews for White Christmas
Critic Reviews for White Christmas
Audience Reviews for White Christmas
Gen. Waverly: There's no Christmas in the army, captain.

White Christmas is a great Christmas classic and a fantastic musical. It has a story that's not too Christmassy but still manages to sum up the whole idea of what Christmas should be about. I'm not the biggest fan of musicals, but when I do see one I enjoy, it's always a treasure. This is a new favorite of mine when it comes to the holiday season. 

Two army friends create a song and dance act that becomes extremely successful. When they go to see a sister act, Phil decides to try to hook Bob up with one of the sisters. They end up going with the Haynes sisters to Vermont where they are to play a show at an inn. This inn ends up being owned by Bob and Phil's commanding general from their army days and things aren't looking great for the general. Since there's no snow to speak of, his inn is completely empty and it looks like he could lose it. Bob and Phil decide to do a show there in order to attract people and they end up coming up with an idea that will be a great gift for their beloved general.

White Christmas is a beautiful movie with endearing performances and some pretty good song and dance numbers. Fans of old musical will love it, as should people who don't really care for this sort of thing normally. It's easy to see why this movie is so highly regarded when it comes to the Christmas season. It's a great holiday movie to sit down with the family to.
Melvin White
Super Reviewer
White Christmas is a perennial favorite of the holidays. Of course the title for the movie is from the enduring hit, the best-selling single of all time. Originally written for the 1942 musical Holiday Inn, White Christmas was a belated follow up to that hit movie. This is another excuse to weave a lot of Irving Berlin songs into a simplistic plot. "Blue Skies", "Snow", "Love, You Didn't Do Right By Me." They're all here. The song "Sisters" is particularly entertaining - in 2 different versions sung by both sexes. Bright colorful production is beautifully filmed in the widescreen format VistaVision. White Christmas also spotlights some really splashy dance numbers including "Choreography", "Abraham" and "Mandy". The latter of which features dresses and tuxes in such blazing reds and greens, the color is simply bursting from the frame. The spectacle was syrupy sweet when it came out, but feels even more corny today. A less secure critic might be embarrassed to concede that he actually delights in this sort of hokum. I freely admit I enjoy this film without one iota of shame. There's a sugar-coated artificiality to the proceedings, but that's what makes the old fashioned display so heartwarming. There's a reason why this has endured for 6 decades.

fastfilmreviews.com
White Christmas Quotes
Judy: [about Betty] Yesterday, she couldn't sleep. Today, she won't eat. She's in love.
Bob Wallace: Well if that's love, somebody goofed.
Phil Davis: When what's left of you gets around to what's left to be gotten, what's left to be gotten won't be worth getting, whatever it is you've got left.
Bob Wallace: When I figure out what that means I'll come up with a crushing reply.
Discussion Forum
Discuss White Christmas on our Movie forum!
News & Features