Stone Cold
(1991)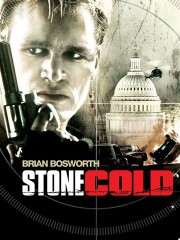 Stone Cold Trailers & Photos
Movie Info
In the early '90s, Brian Bosworth made the seamless transition from football bad boy to onscreen bad ass. In Stone Cold, the Boz plays cop Joe Huff, a brute force specialist. The FBI contracts him to take down a biker gang known as the Brotherhood, who have been implicated in drug trafficking and several murders. Joe assumes the personality of John Stone and goes undercover. His mission seems not to bust the gang but rather to kill with excessive force. Before he can take the law into his own hands, however, he has to get in with the gang's leader, the impressively tough Chains. The Boz doesn't disappoint, and he gets his chance in the final confrontation where he takes on several score of the Brotherhood in the street battle to end all street battles.
more
Sony Pictures Home Entertainment
Cast
News & Interviews for Stone Cold
Critic Reviews for Stone Cold
Audience Reviews for Stone Cold
½
The Boz is personable enough but interest is only kept alive by Lance Henriksen's great villain and a couple of neat, loud and violent action scenes.
Dean McKenna
Super Reviewer
'sother hidden gem that is also like finding a needle in a haystack. I finally got a hold of a copy that was only in my old and dusty vhs collection. One of the best early 90's action flicks. If they had a place for me to go online and vote for who i thought was one of the top 10 villains of film of all time, i tell ya this flick contains two of em. I simply love Lance Henriksen to death and anytime he pops up on the big screen as a villain i get goosebumps. Another is the always great but highly underrated William Forsythe. Brian Bosworth plays undercover F.B.I. agent Joe Huff. Who is sent way under to infiltrate a chapter of the motorcycle gang The Brotherhood. This chapter is run by Chains (Lance Henriksen) and his second in command Ice ( William Forsythe) Due to the recent capture of one of their main captains have decided to place an assassination attempt on the town mayor. Its up to Joe to stop them before its too late. Forsythe and Henriksen play outlaw bikers so well you would think they were them. An awesome thrill ride that starts of from the get go and never slows down till the ending credits role.
Stone Cold Quotes
Discussion Forum
Discuss Stone Cold on our Movie forum!
News & Features