JFK
(1991)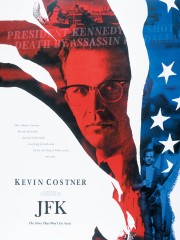 TOMATOMETER
AUDIENCE SCORE
Critic Consensus: As history, Oliver Stone's JFK is dubious, but as filmmaking it's electric, cramming a ton of information and excitement into its three-hour runtime and making great use of its outstanding cast.
JFK Trailers & Photos
Movie Info
The November 22, 1963, assassination of U.S. President John F. Kennedy shocked the nation and the world. The brisk investigation of that murder conducted under the guidance of Supreme Court Justice Earl Warren distressed many observers, even though subsequent careful investigations have been unable to find much fault with the conclusions his commission drew, the central one of which was that the assassin, Lee Harvey Oswald, acted alone. Instead of satisfying the public, one result of the Warren Commission Report was that an unimaginable number of plausible conspiracy theories were bruited about, and these have supported a sizeable publishing mini-industry ever since. In making this movie, director Oliver Stone had his pick of supposed or real investigative flaws to draw from and has constructed what some reviewers felt was one of the most compelling (and controversial) political detective thrillers ever to emerge from American cinema. Long before filming was completed, Stone was fending off heated accusations of artistic and historical irresponsibility, and these only intensified after the film was released. In the story, New Orleans District Attorney Jim Garrison (Kevin Costner) is convinced that there are some big flaws in the investigation of Oswald (Gary Oldman), and he sets out to recreate the events leading up to the assassination. Along the way, he stumbles across evidence that a great many people had reason to want to see the president killed, and he is convinced that some of them worked in concert to frame Oswald as the killer. Among the suspects are Lyndon Baines Johnson (the next president), the CIA, J. Edgar Hoover, and the Mafia. Over the course of gathering what he believes to be evidence of a conspiracy, Garrison unveils some of the grittier aspects of New Orleans society, focusing on the shady activities of local businessman Clay Shaw (Tommy Lee Jones). Garrison's investigations culminate in his conducting a show trial that he knows he will lose and which he is sure will ruin his career in order to get his evidence into the public record where it can't be buried again. This movie won two of the many Academy Awards for which it was nominated: one for Best Photography (Robert Richardson) and the other for Editing (Joe Hutshing). ~ Clarke Fountain, Rovi
more
Cast
News & Interviews for JFK
Critic Reviews for JFK
Audience Reviews for JFK
Please note that this review is over the director's cut of the film, clocking in at about 205 minutes.

Everyone knows John Fitzgerald Kennedy was assassinated, but the case was never open and shut from the beginning, and with this film, Oliver Stone hoped to show that. What we have here is a dramatized take on the efforts of New Orleans District Attorney and his team of colleagues to bring to light various conspiracies surrounding the death of JFK, including the only (to this date) public trial concerning the event.

I knew from the beginning that this film was going to be heavy on historical revision, rejection/ignorance (as in purposely ignoring) of historical fact, and tons of conjecture, a lot of times without evidence, or at least substantial and credible amounts of it. I knew there'd be more questions and answers. And I knew that in general this film was going to be pretty inaccurate and take as much dramatic license as possible in the name of telling a great, engaging, and absorbing story.

And, now that I've seen it, I can easily say that yes, this is a riveting cinematic experience. But, I do think it's overrated and not the full on masterpiece it's been touted as being. However, if you treat the film as having no relation to reality in any way whatsoever, ie as just a fictional investigation into a fictional assassination, it still holds up as a wonderful story about a guy determined to bring about truth and justice. But, it's not totally fictional. It's a look at probably the most well known assassination of all time.

I honestly don't know what to believe in watching the film, and I'm not sure if Stone really knows the truth either. I'm not sure anyone does. That's not the point. The fact that people obsess over this case is a testament to its power. The fact that this is such a talked about and controversial movie is an even further testament to the strength of things.

Despite some dodgy writing and conclusions, this film is a brilliant show of cinematography and editing, especially with the editing. The presentation, like some of Stone's other works, is a frenetic, schizophrenic explosions of various filters, lenses, formats, styles, and techniques, all in the name of artistry, symbolism, or some other sort of important reason. And...it works. It definitely makes for a unique experience, that's for sure.

Don't ask me to name the whole cast. That'd be insane. I think Stone may have out Altmaned Altman on this one. The choices are excellent though, and it's nice seeing so many notable names, especially since a lot of them are in tiny roles or cameos, and many agreed to take pay cuts to be in the film. Costner is absolutely brilliant as Garrison, and Rooker, Knight, Sanders, and Metcalf are all equally strong as his underlings. Gary Oldman knocks it out of the park as Lee Harvey Oswald, which I expected, but for me, the two best performances after Costner belong to Joe Pesci and Donald Sutherland. Pesci's breakdown and Suther;and's monologue rank as some of the best moments of their respective careers, and the final courtroom monologue given by Costner is one of the most epic things ever.

I really enjoyed this film despite its flaws. I feel it is definitely an important piece of work, because it really did open up a lot of eyes, and it did so in such a stellar cinematic way, but it didn't shake me enough to warrant the full grade that this sort of thing typcially illicits from me. Defintiely give it a watch though.
Chris Weber
Super Reviewer
I'm not really big into conspiracy theories and all. In fact, I mostly think that conspiracy theorists are nut cases, and quite often lunatics. In regard to Oliver Stone's JFK, the film deals with the conspiracy that there was a second gun man who assisted Lee Harvey Oswald in assassinating John F. Kennedy. JFK is a good conspiracy thriller that I didn't expect to enjoy. However I was pleasantly surprised. Oliver Stone directs an impressive and talented cast of actors here. Kevin Costner and Tommy Lee Jones really shine. I won't go into detail about the films plot as everyone pretty knows the story of this film. I thought that the plot was engaging enough to keep you interested from start to finish. Oliver Stone manages to grab your attention right from the start. The cast that star in this film make this film work well enough, and JFK is a pretty good conspiracy thriller. Though I wasn't particularly blown away by the film, I thought it was pretty good for what it was. JFK is a good film with plenty of twists to keep you guessing till the very end. Oliver Stone manages to keep you interested as the film demands the viewer to answer the questions that the film asks. Though I'm not really big into Oliver Stone films, JFK did entertain me, and if you enjoy conspiracy thrillers, you're most likely going to enjoy this one. The cast is terrific, and there are some great performances here and the film is complimented by a good story. I personally think that there wasn't a conspiracy in the JFK assassination, but to those who are interested in the topic; this film will definitely appeal to you.
JFK Quotes
Sen. Russell Long: One pristine bullet? That dog don't hunt.
Jim Garrison: I don't have much of a case.
Jim Garrison: Is that why?
Jim Garrison: Who killed the president?
Discussion Forum
Discuss JFK on our Movie forum!
News & Features