Behind Enemy Lines
(2001)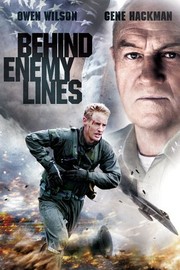 TOMATOMETER
AUDIENCE SCORE
Critic Consensus: The plot for Behind Enemy Lines is more jingoistic than credible, and the overload of flashy visual tricks makes the action sequences resemble a video game.
Tickets & Showtimes
Behind Enemy Lines Trailers & Photos
Movie Info
A television commercial for a Sega game system that aired during the 1999 MTV Music Video Awards landed debut director John Moore a gig behind the camera of this military action thriller. Owen Wilson stars as Lt. Chris Burnett, a naval aviator aboard the U.S.S. Carl Vinson who's frustrated with the strict "hands-off" political policies that prevent him from experiencing combat against hostile Bosnian forces in his F/A-18 Superhornet jet. Burnett's commander, Admiral Reigert (Gene Hackman), thinks that the brash pilot doesn't have what it takes to be in the millitary, but the eager young officer soon gets the chance to prove his mettle. While conducting a routine photographic reconnaissance over a remote area of the Balkans, Burnett captures grisly images that serve as proof of genocidal crimes, but his plane is blown out of the sky. He's soon pursued on the ground by the forces of Lokar (Olek Krupa), a Serbian paramilitary leader intent on covering up unthinkable crimes, while Reigert defies the NATO orders of his superior (Joaquim de Almeida) and risks his career to mount a covert rescue mission. Behind Enemy Lines (2001), the first of two back-to-back releases starring Wilson and Hackman (the other being The Royal Tenenbaums), also stars David Keith, Gabriel Macht, and Charles Malik Whitfield. ~ Karl Williams, Rovi
more
Cast
News & Interviews for Behind Enemy Lines
Critic Reviews for Behind Enemy Lines
Audience Reviews for Behind Enemy Lines
½
Prepare to cross the line.

Very good movie! It's shocking to see Owen Wilson in this film since usually his roles are in comedies but he did quite good as a air force soldier. The story was interesting and in a few moments intense, not bat at all.

Lt. Chris Burnett has lost faith in his job in the Navy and wants to get out, and is even forced to do a reconnaissance mission with his friend Lt. Jeremy Stackhouse over Bosnia. During the mission, they fly their jet off course to check out a suspicious target that turns out to be the site of a mass grave that contains bodies of Bosnian Muslims. The main perpetrator of the massacre, Gen. Miroslav Lokar, has the plane shot down in order to avoid having the plane obtaining evidence of the massacre. Stackhouse ends up getting killed, while Burnett finds himself alone on the run from Lokar's ruthless soldiers. Burnett's commanding officer, Rear Admiral Leslie Reigart, has trouble gaining approval from his own commanding officers to carry out a search-and-rescue mission to save Burnett. From encountering a major battle in a war-torn town, to mine fields, to Serb soldiers seeking the pilot, and to a highly skilled sniper, will Burnett be able to escape Bosnia, or will he suffer the same fate of his comrade?
Superb and touching action-thriller film. The action sequences and visual effects are superb. The missile-jet scene has some of the best surround sound I have ever heard in an action scene, along with super visuals. Owen Wilson's travails, as he tries to stay alive in hostile territory while red-tape holds up his rescue efforts, are fascinating. The action scenes are quite different, too.
The characters were solid, and director John Moore emphiseses the war - torn cities of Bosnia quite well. Wilson is excellent at portraying a character way out of his comfort zone, and Vladimir Mashkov's chilling as a Serbian sniper.
Dean McKenna
Super Reviewer
Behind Enemy Lines Quotes
Lt. Chris Burnett: You've got to be shitting me!
Stackhouse: Yet another useless joyride at the cost of mere millions to the US taxpayer.
Reigart: Burnett! Zero six, you are a combat naval aviator. Start acting like one. You've been shot down. Life is tough. I am very sorry. Now you pull yourself together. You do whatever it takes. Create some angles between you and your pursuers. Use your training. Use your head. Evade and survive, and we will bring you home. Do you understand? We will bring you home!
Discussion Forum
Discuss Behind Enemy Lines on our Movie forum!
News & Features