Big Fish
(2003)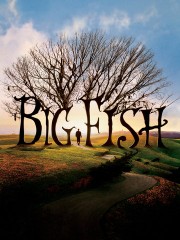 Big Fish Trailers & Photos
Movie Info
The story of a braggart and exaggerator, Edward Bloom, and his son, William, who--after a long estrangement--returns home only to learn his father is dying of cancer. Desperate to know the complicated man before it's too late, William sets out, trying to unravel fact from fiction.
more
Rating:
PG-13 (for a fight scene, some images of nudity and a suggestive reference)
Genre:

Drama

,

Comedy

Directed By:

Tim Burton

Written By:
John August
In Theaters:
Dec 10, 2003 Wide
On DVD:
Apr 27, 2004
Box Office:
$66.3M
Runtime:
Cast
News & Interviews for Big Fish
Critic Reviews for Big Fish
Audience Reviews for Big Fish
½
Will Bloom: A man tells so many stories, that he becomes the stories. They live on after him, and in that way he becomes immortal.

"An Adventure As Big As Life Itself."

Big Fish is a very interesting movie. The plot jumps around and while we are being told the stories, we, like the child of the man in the stories, don't know what's true and what's false. Now, Big Fish isn't one of my favorites from Tim Burton, but it does show some expansion in his filmmaking. This movie is more real life than anything he's ever done. Sure there's some fantastical elements that remind us of other Burton films, but this one is so much more different than anything he's ever done.

Big Fish is the life story of a dying old man, Ed Bloom. He is a storyteller, that tells fantastical stories about his life, which seem to have little to do with reality. His son, Will, also is under the belief that the stories are made up. Either way we get to hear and see the stories the way Ed would have told them.

There's a lot of bizarreness going on here as you would suspect with any Burton film. There's a giant, a witch, a humongous fish, and a love story that stops time. Overall the plot elements add up to a pretty satisfactory story even if something seems to be missing from he overall outcome.

Big Fish is a film I more appreciate then enjoy. I never have fallen in love with it, but it always entertains and intrigues me. It's well worth a watch as it has solid direction from Burton and it boasts a strong and well-know cast.
Melvin White
Super Reviewer
Fantasy movie by Tim Burton. A man is dying of cancer. His son is desperate to know his father. He tells him how he met his mother. Great cast and story.
Candy Rose
Super Reviewer
Big Fish Quotes
Ed Bloom (Young): There are some fish that cannot be caught. It's not that they are faster or stronger than the other fish, they're just touched by somethin' extra.
Dr. Bennett (Senior): Not very excitin', is it? And I suppose if I had to choose between the true version and an elaborate one involvin' a fish and a wedding ring, I might choose the fancy version. But that's just me.
William Bloom: I kinda like your version.
Dr. Bennett (Senior): Did your father ever tell you about the day you were born?
William Bloom: A thousand times. He caught an uncatchable fish.
Dr. Bennett (Senior): Not that one. The real story. Did he ever tell you that.
William Bloom: No.
Dr. Bennett (Senior): Your mother came in about three in the afternoon. Her neighbor drove her, on account of your father was on business in Wichita. You were born a week early, but there were no complication. It was a perfect delivery. Now, your father was sorry to miss it, but it wasn't the custom for the men to be in the room for deliveries then, so I can't see as it would have been much different had he been there. And that's the real story of how you were born.
Sandra Bloom (Senior): I don't know if you're aware of this, Josephine, but African parrots, in their native homes of the Congo, they only speak French?
Josephine: Really?
Edward Bloom (senior): You're lucky to get four words out of them in English, but if you were to walk through the jungle, you'd hear them speakin' the most elaborate French. Those parrots talk about everything. Politics, movies, fashion. Everything but religion.
William Bloom: Why not religion, Dad?
Edward Bloom (senior): It's rude to talk about religion. You never know who you're gonna offend.
William Bloom: Josephine actually went to Congo last year.
Edward Bloom (senior): Oh, so you know.
Discussion Forum
Discuss Big Fish on our Movie forum!
News & Features