4:44 Last Day on Earth
(2012)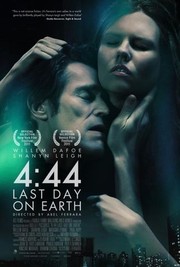 Tickets & Showtimes
4:44 Last Day on Earth Trailers & Photos
Movie Info
In a large apartment high above the city lives our couple. They're in love. She's a painter, he's a successful actor. Just a normal afternoon - except that this isn't a normal afternoon, for them or anyone else. Because tomorrow, at 4:44 am, give or take a few seconds, the world will come to an end far more rapidly than even the worst doomsayer could have imagined. The final meltdown will come not without warnings, but with no means of escape. There will be no survivors. As always, there are those who, as their last cigarette is being lit and the blindfold tightened, will still hope against hope for some kind of reprieve. For a miracle. Not our two lovers. They - like the majority of the Earth's population - have accepted their fate: the world is going to end. -- (C) IFC
more
Cast
News & Interviews for 4:44 Last Day on Earth
Critic Reviews for 4:44 Last Day on Earth
Audience Reviews for 4:44 Last Day on Earth
A look at how a painter and a successful actor spend their last day together before the world comes to an end.

Bad Film! This film must have been pure profit for the makers. I think about 20 percent of it must have been archived footage from around the world. The biggest problem I had with this movie is that it reminded me of a mediocre film school project at best. It tried to be artsy but failed. It tried to be philosophical but failed. It tried to be an emotional tale of a shared ending and failed. It tried to tie all these together with the worst music and sound effects that I have heard in some time. My ears are still ringing. Do yourself a favor and stay away from this one unless you happen to be in the mood to be severely underwhelmed.

In a large apartment high above the city lives our couple. They're in love. She's a painter, he's a successful actor. Just a normal afternoon except that this isn't a normal afternoon, for them or anyone else. Because tomorrow, at 4:44 am, give or take a few seconds, the world will come to an end far more rapidly than even the worst doomsayer could have imagined. The final meltdown will come not without warnings, but with no means of escape. There will be no survivors. As always, there are those who, as their last cigarette is being lit and the blindfold tightened, will still hope against hope for some kind of reprieve. For a miracle. Not our two lovers. They like the majority of the Earth's population have accepted their fate: the world is going to end.
½
"4:44 Last Day on Earth" is the kind of ponderous movie that provides insights as to why Willem Dafoe is now doing commercials, for which he receives a special dispensation for. Otherwise, there is not that much thought going on here, even at the end of the world. Yes, Al Gore is right but surely we could think of a better epitaph for the human race than that.

Storywise, Dafoe plays Cisco who spends his last day with his much, much younger significant other Skye(Shanyn Leigh), arguing, having sex and Skyping, thankfully not all at the same time. This sort of thing might have actually had a chance of working if they were in an isolated cabin in say Montana but not Brooklyn, where news reports notwithstanding, there would be something more out of the ordinary going on than one person jumping to his death right before the apocalypse.
4:44 Last Day on Earth Quotes
Cisco: The world's going to end.
Tina: Let's get some Vietnamese food. So yummy!
Discussion Forum
Discuss 4:44 Last Day on Earth on our Movie forum!
News & Features