A Haunted House
(2013)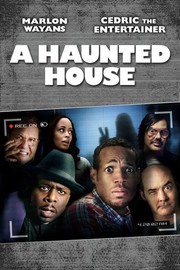 A Haunted House Trailers & Photos
Movie Info
In an outrageous send up of the Paranormal Activity movies, The Devil Inside and other "found footage" movies, A HAUNTED HOUSE features young couple Malcolm (Marlon Wayans) and Kisha (Essence Atkins) who have just moved in to their dream house. As they settle in, they quickly find they're not alone. But it's not the house that's haunted, it's Malcolm's girlfriend who is possessed by a demon. Malcolm hires everyone from a priest to modern day ghostbusters to rid her of this unwelcome intruder, determined not to let the evil spirit ruin his relationship... or, more importantly, his sex life. (c) Open Road Films
more
Cast
News & Interviews for A Haunted House
Critic Reviews for A Haunted House
Audience Reviews for A Haunted House
½
It is what you should expect.
Malcolm: You made a deal with the devil for a pair of shoes?

"This $*%! ain't paranormal."

For some reason beyond my control, I have watched a movie that I said I never would. I'm more sick of these ridiculous horror spoofs than anyone, but for some reason, my better judgement is always one upped by my fascination for how bad these things can be. In the end, the only thing that keeps me watching these, is seeing just how terrible they can get. A Haunted House happens to be pretty fucking terrible.

Malcolm's new girlfriend moves into his house and he is going to document their new beginning. When things start happening in the house it is brought to Malcolm's attention that his a demon followed his girlfriend to his house. So basically think Paranormal Activity, but taken to the most ridiculous levels.

The humor is what you'd expect. A lot of race jokes, fart jokes, etc. None of the humor was at all intelligent or in any way funny, but as long as the 10 year olds are laughing, I guess that's all that matters. I don't know how anyone could find any enjoyment in this at all.

A Haunted House is a disgrace and just a terrible movie in general. As far as a recommendation goes, my recommendation would be to stay as far away from this one as possible. Don't see it. Unless of course seeing a sheet move because of a woman's gas puts you into fits of laughter. If not, this one is not for you.
Melvin White
Super Reviewer
A Haunted House Quotes
Kisha: There's a ghost in the house!
Malcolm: There's a ghost in your ass.
Malcolm: Bitch, there's a ghost in the house! Deuces!
Chip the Psychic: I would say watermelon, but that could be racist.
Malcolm: Nobody is going to hurt you on my watch. Unless somebody has a gun.
Discussion Forum
Discuss A Haunted House on our Movie forum!
News & Features