Anacondas: The Hunt for the Blood Orchid
(2004)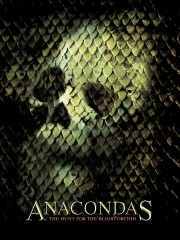 Tickets & Showtimes
Anacondas: The Hunt for the Blood Orchid Trailers & Photos
Movie Info
Directed by Dwight H. Little, Anacondas: The Hunt for the Blood Orchid is the sequel to 1997's tongue-in-cheek Anaconda, though none of the original cast have returned. The film chronicles a fateful mission ordered by a pharmaceutical giant: to travel deep in to the jungles of Borneo, where a rare black orchid -- one that can be used to attain immortality -- has bloomed for hundreds of years, unbeknownst to man. The eager horticulturists sent have no idea that an indigenous population of bloodthirsty anacondas has been privy to the orchid's properties for years. Not only have the orchids augmented their already phenomenal size, strength, and vitality, they've substantially increased the snakes' appetites for flesh. Anacondas: The Hunt for the Blood Orchid features Peter Curtis, Johnny Messner, Morris Chestnut, and Eugene Byrd.
more
Cast
News & Interviews for Anacondas: The Hunt for the Blood Orchid
Critic Reviews for Anacondas: The Hunt for the Blood Orchid
Audience Reviews for Anacondas: The Hunt for the Blood Orchid
This sequel to Anaconda looks strained, tiresome and overall it's a boring film that just misses the mark. The film has a poorly written script, a bad cast and poor effects. This is very much like the first film where the filmmakers made a killer creature horror film, but they didn't care how it turned out. This one didn't do it for me and I felt it was quite horrible with nothing really going for it and it just didn't deliver anything fun or memorable. I've seen my fare share of these types of films, and this is one of the worst that I had the misfortune to see. The film is just not fun to watch, while these films are supposed to be, this was just poorly made trash that simply didn't deliver. The Anacondas series is horrible, and with this sequel you can understand why. You get a broader picture as to why these films simply don't deliver anything worth seeing. This is one of those sequels that is worse than the first. The film suffers from a bad script, a poor cast and basically everything that made the first film forgettable. As low-budget horror goes, this one misses the mark. There's nothing memorable about this. This is just a poorly executed horror film with no payoff. If you've seen the first film, then you don't need to see this film, it's all the same in the end with little substance or hint of effective terror, which in turn make these films not worth seeing. Don't expect anything if you decide to watch this film. This is standard low-budget horror that fails to deliver what it tries to do.
½
4 words. Exploding Snake-Ball Orgy
Anacondas: The Hunt for the Blood Orchid Quotes
Dr. Jack Byron: You guys look like hell.
Gail Stern: You know what hell is...
Sam Rogers: That was either the bravest or the stupidest thing I've ever seen.
Bill Johnson: It's a fine line.
Cole Burris: I might die of a heatstroke, but I'm gonna have a nice, tight ass!
Cole Burris: I'm so hungry, I'd sell my Grandmother for a tic tac!
Discussion Forum
Discuss Anacondas: The Hunt for the Blood Orchid on our Movie forum!
News & Features