At the Earth's Core
(1976)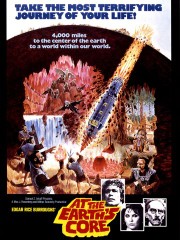 At the Earth's Core Trailers & Photos
Movie Info
This adventure fantasy is based on Edgar Rice Burrough's popular novel and follows a journey to the center of the Earth with a group of British scientists. They get there with a gigantic burrowing machine. Once at the Core, they find a fantastical world filled with prehistoric creatures, strange bird-like monsters, and war-like humanoids.
more
American International Picture
Cast
News & Interviews for At the Earth's Core
Critic Reviews for At the Earth's Core
Audience Reviews for At the Earth's Core
All the appeal of a Saturday morning kid's show. God bless Peter Cushing for being the one bright spot in this otherwise forgettable film.
Randy Tippy
Super Reviewer
½
I remember watching this movie a few years ago after my granny told me that she was gonna watch it and that I should. I did and I thought it was pretty good. It wasn't the best of its kind that I have ever saw, but it was pretty good. An inventor and his sidekick go on a journey to the center of the earth in a huge drilling machine. Once they get there, they don't discover lava or fire, they discover a lost world and a prehistoric tribe. They get held hostage and from that point on is when At The Earth's Core turns into a good movie. It'll keep you in suspense wondering how they're gonna escape and go back to the surface.
If you like one of a kind adventures like this movie, I would definitely recommend getting At The Earth's Core. The only drawbacks I could see was that it was a little bit boring at the beginning, but it gets better all along. The special effects also weren't the best ever seen, but then again it what do you expect of a movie that came out back in the mid 70's?

One more thing, most of the time I don't remember a movie all that great after just watching it once. But it's been about 2 years since I saw At The Earth's Core and I still remember most of it. It'll stick with you. NOTE: That was my Amazon review from the year 2000. I haven't seen this movie since then so not sure what I'd think, but I do remember parts of it and it was real neat.
At the Earth's Core Quotes
Ra: [as David confronts a prehistoric beast] Hit it behind the ear!
Dr. Abner Perry: [after shooting down a fire-breathing toad] Bull's eye!
Dia: It's Jubal, the ugly one!
Jubal: HYAAAAAHHH!
David Innes: You can say that again...
Dr. Abner Perry: You can't mesmerize me! I'm british!
Discussion Forum
Discuss At the Earth's Core on our Movie forum!
News & Features