Austin Powers: International Man of Mystery
(1997)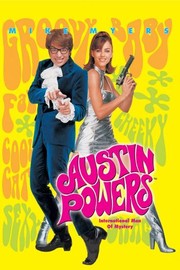 Austin Powers: International Man of Mystery Trailers & Photos
Movie Info
Less a parody of the early James Bond film than a parody of the films that parodied the early James Bond films, Austin Powers: International Man of Mystery stars Mike Myers as Austin Powers, by day a hipster fashion photographer in mid-'60s swingin' London and by night a crime-fighting secret agent. Austin's wardrobe is pure Carnaby Street at its most outrageous, his vocabulary is crowded by the cool lingo of the day ("Groovy, baby! Yeah!!"), and he's irresistible to women, despite the fact that he can be charitably described as "stocky" and has teeth that strike fear into any practicing dentist. When his nemesis, the arch-enemy Dr. Evil (also played by Myers), has himself cryogenically frozen and sent into space, Powers also has himself put on ice so he can be thawed out when Dr. Evil returns. Come 1997, Dr. Evil returns to Earth and is back to his old tricks, so Austin is thawed out and returned to active service -- though he soon discovers his style doesn't play so well 30 years on. The supporting cast includes Elizabeth Hurley as Austin's sidekick, Vanessa Kensington; Michael York as his boss, Basil Exposition; Robert Wagner as Dr. Evil's assistant, Number Two; and Seth Green as Dr. Evil's troubled son, Scott Evil. Ming Tea, the swingin' pop band that periodically backs up Austin, includes real life pop-rockers Matthew Sweet and Susanna Hoffs. Austin Powers: International Man of Mystery was a mild box-office hit but an even bigger success on home video, which led to the 1999 sequel, Austin Powers: The Spy Who Shagged Me. ~ Mark Deming, Rovi
more
Cast
News & Interviews for Austin Powers: International Man of Mystery
Critic Reviews for Austin Powers: International Man of Mystery
Audience Reviews for Austin Powers: International Man of Mystery
Never mind the 60's the 90's are dated enough jez! this film brings back so many memories of my teen years and how this film really made an impact on those times, not me...just the time.

So apart from bad personal memories what else does this film offer? well actually its pretty good and probably one of the best Bond spoofs/parodies you will see. With a wide range of Bond films spoofed it covers all the regular cliched bases, all the set ups, costumes, plot ideals that you would expect from Bond plus a lot of clever smutty humour. Actually Myers does really well with the whole British comedy thing, he does nail or encapsulate the genre very well, you could almost say its a modern 'Carry On' film.

Seeing as this is the first film its not quite as good as the second for me, everything is obviously being set up with characters etc...and the abundance of cameos was slightly worrying at first, kinda assumed it would be a mass celebrity ego trip but surprisingly it all adds to the fun quite nicely. The small cameos by Lowe and Ferrell are good (and fast) but the brief Tom Arnold cameo was probably the best if you like blatant toilet humour.

Hard to tell who this is aimed at really as there is much slapstick and childish humour but also some knife edge stuff also, lots of sexually visual gags and naughty names which are very suggestive but admittedly smile inducing. A much more easier character to get on with than 'Wayne Campbell' of 'Wayne's World' and a more universal concept methinks. Every possible stereotype is lanced, all costumes, sets, music, vehicles etc...are correctly presented as this juggernaut of the 60's era steams along with some crazy wild vintage kitsch and a performance from Myers that Carrey would envy.
½
Great for some yuks and pop culture references! And I know Elizabeth Hurley isn't really the It Girl anymore and she has come across as vapid and culturally unaware in soundbites, but I really think she is the most beautiful woman I've ever seen.
Austin Powers: International Man of Mystery Quotes
Dr. Evil: Scott, do you want to see my project?
Scott Evil: Blow me.
Dr. Evil: What did you say?
Scott Evil: I said show me.
Alotta Fagina: In Japan, men come first and women second.
Austin Powers: Or sometimes not at all!
Austin Powers: What do you do Mr. Number Two?
Number Two: That's my business.
Austin Powers: So, shall we shag now, or shall we shag later? How do you like to do it? Do you like to wash up first? Top and tails? A whore's bath? Personally, before I'm on the JOB, I like to give my undercarriage a bit of a 'how's-your-father'.
Discussion Forum
Discuss Austin Powers: International Man of Mystery on our Movie forum!
News & Features