La Battaglia di Algeri (The Battle of Algiers)
(1967)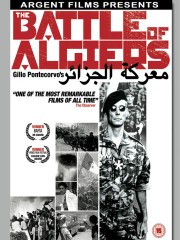 TOMATOMETER
AUDIENCE SCORE
Critic Consensus: A powerful, documentary-like examination of the response to an occupying force, The Battle of Algiers hasn't aged a bit since its release in 1966.
Tickets & Showtimes
La Battaglia di Algeri (The Battle of Algiers) Trailers & Photos
Movie Info
This highly political film about the Algerian struggle for independence from France took "Best Film" honors at the 1966 Venice Film Festival. The bulk of the film is shot in flashback, presented as the memories of Ali (Brahim Haggiag), a leading member of the Algerian Front de Liberation Nationale (FLN), when finally captured by the French in 1957. Three years earlier, Ali was a petty thief who joined the secretive organization in order to help rid the Casbah of vice associated with the colonial government. The film traces the rebels' struggle and the increasingly extreme measures taken by the French government to quell what soon becomes a nationwide revolt. After the flashback, Ali and the last of the FLN leaders are killed, and the film takes on a more general focus, leading to the declaration of Algerian independence in 1962. Director Gillo Pontecorvo's careful re-creation of a complicated guerrilla struggle presents a rather partisan view of some complex social and political issues, which got the film banned in France for many years. That should not come as a surprise, for La Battaglia di Algeri was subsidized by the Algerian government and -- with the exception of Jean Martin and Tommaso Neri as French officers -- the cast was entirely Algerian as well. At least three versions exist, running 135, 125, and 120 minutes. ~ Robert Firsching, Rovi
more
Cast
News & Interviews for La Battaglia di Algeri (The Battle of Algiers)
Critic Reviews for La Battaglia di Algeri (The Battle of Algiers)
Audience Reviews for La Battaglia di Algeri (The Battle of Algiers)
Bruce Bruce
Super Reviewer
Absolutely riveting. There seem to always be a batch of films that no matter how old they are, they never lose their edge. The Battle of Algiers is one of those impressive works. From a filmmaking standpoint, it commands every ounce of your attention span. The camera work is so smart and compounds the blistering tension that invades every scene. This coupled with Morricone's invasive yet impeccable score never gives you a moments rest, even when you know what is going to take place.
I think what makes this film so powerful is the fact that Pontecorvo was able to encompass not only the power and emotion behind a revolutionary movement, but also show the confusion, sorrow, and often senseless violence that are the by-product of these movements.
Also, It was hard not to make modern day parallels to the occupation of Iraq. Watching these French officials attempt to find order and use their minds to fight an "enemy" who is empowered by their hearts, made me rethink every time I saw an American general on television discussing their efforts in stifling the revolutionary movement. It is a rare and brilliant film and is a must watch for any fans of film.
It's been said that movies, unlike any other art form, transcend space and time and transport us somewhere else. Movies can promote empathy and can make us concerned with lives that are not our own. Some movies, the really good ones, can even make us better people. The Battle of Algiers is one of those movies.

Based on the true story of Algeria's long struggle for independence, this film chronicles a group of freedom fighters (terrorists) as they attempt to overthrow the French Colonial Government. In it's initial release, The Battle of Algiers hit a little too close to home for Americans who were still wallowing through the muck of their own occupation of Vietnam. I'd wager that, if it were released today, it would have the same effect. It's powerful and brutally honest in its depiction of street warfare. A rare offering that is completely deserving of all the hype.
Randy Tippy
Super Reviewer
La Battaglia di Algeri (The Battle of Algiers) Quotes
Discussion Forum
Discuss La Battaglia di Algeri (The Battle of Algiers) on our Movie forum!
News & Features