Battle Royale 3D
(2000)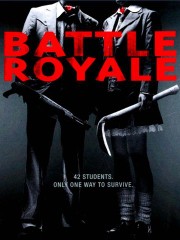 TOMATOMETER
AUDIENCE SCORE
Critic Consensus: Battle Royale is a controversial and violent parable of adolescence, heightening teenage melodrama with life-or-death stakes.
Tickets & Showtimes
Battle Royale 3D Trailers & Photos
Movie Info
A long-unavailable underground hit that anticipated The Hunger Games novels by eight years, veteran director Fukasaku's epically violent, still-controversial and deeply influential genre masterpiece takes place in a dystopian alternate universe. In the near future, the economy has collapsed, unemployment has soared and juvenile crime has exploded. Fearful of its nation's youth, the Japanese government passes The BR Law: Each year, a 9th grade class is sent to a remote island where they will be locked into exploding neck collars, given a random weapon, and forced to hunt and kill each other until there is only one survivor left. Battle Royale follows one such class, with an ice-cold performance from Takeski Kitano as the group's teacher. -- (C) Anchor Bay
more
Cast
News & Interviews for Battle Royale 3D
Critic Reviews for Battle Royale 3D
Audience Reviews for Battle Royale 3D
♥˩ƳИИ ƜѲѲƉƧ♥
Super Reviewer
'Battle Royale' is clearly a huge underground hit for many good reasons, even if the acting is a little poor from the young students. Kitano gives a great performance however, and the pace is brisk while the violence is plenty. The film most superbly succeeds in its a production design and atmosphere whilst being a social commentary that is pretty poignant. The teenage drama is a little soapy but its easy to forgive their performances, seeing as the film in its entirety is extremely potent. 'Battle Royale' is definitely recommended for any Tarantino fan or someone looking for an original viewing experience because yes, this film was made before 'Hunger Games' was even written. The similarities may be uncanny, but this vision of teens fighting to the death makes for a better production.
½
I've finally gotten around to seeing this, and yeah, it's quite a film.

First off: the elephant in the room. The Hunger Games isn't a complete rip off of this. Yeah, it's similar, but as I said in my review for that one, it's just another variation on a theme. The biggest difference between this and that is that one has more world building (and is slightly better in that regard), but this one has a lot more guts, and was thankfully not compromised when it comes to the dark and gritty subject matter. Not only that, but this film is a lot easier to tell what's going on too, as the camera isn't shaking every few seconds.

The satire (and yes, it is clearly a darkly comedic satire) is fairly broad, but it gets the point across. Japan is getting frustrated with youthful rebellion so they come up with an extreme way to deal with it: randomly select entire classes of 9th graders and force them to battle to the death on an island. Awesome. It's a pretty pointed look at the competitiveness of the educational system, and really does a good job with the broad strokes. Plus, the bloodshed is a lot more effective and shocking since the kids all know each other very well, unlike THG where the kids don't really know one another very much.

The film is quite shocking, and it amazed me how many times I noticed that my jaw had dropped. This is gruesome, but there's definitely a sense of tongue-in-cheek to this, namely with the instructional video, and the way the adults regard the situation. I kinda felt bad for enjoying this at times, and the fact that the film is really tonally ambiguous is somewhat problematic, but overall, this film is quite amazing and compelling.

There's some character development, but just enough to keep most of the characters from being complete fodder. In a movie like this, its expected that some characters will get priority over the others, and that's fine. Those characters get the most development, and it's done decently. I just wish that it was possible to have more development for more of the players. The performances are decent though, for the most part. Occasionally some of the acting sticks out as rather melodramatic, but not enough to wreck things.

Now, the violence. Damn! Like I said, I got pretty shocked at times. This film is brutal, inventive, and the rough stuff is executed quite well. Some of these set pieces were just dynamite, and I loved the creativity they put into some of these kills.

The film does somewhat fall apart a bit towards the end, but it ended satisfactorily enough for me I suppose.

All in all, this is definitely a must-see. Obviously it's not for the squeamish, but come to it with an open mind and I think you might find something good to take away from it.
Chris Weber
Super Reviewer
Battle Royale 3D Quotes
Mitsuko Souma: Why not kill? Everyone has their issues.
Kitano: Life is a game. So fight for survival...and find out if you're worth it.
Kitano: If you hate someone, you take the consequences.
Kitano: The last one... Cookies sure were good.
Discussion Forum
Discuss Battle Royale 3D on our Movie forum!
News & Features