Beowulf
(2007)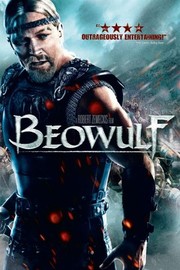 TOMATOMETER
AUDIENCE SCORE
Critic Consensus: Featuring groundbreaking animation, stunning visuals, and a talented cast, Beowulf has in spades what more faithful book adaptations forget to bring: pure cinematic entertainment.
Tickets & Showtimes
Beowulf Trailers & Photos
Movie Info
In a legendary time of heroes, the mighty warrior Beowulf battles the demon Grendel and incurs the hellish wrath of the beast's ruthlessly seductive mother. Their epic clash forges the timeless legend of Beowulf.
more
Cast
News & Interviews for Beowulf
Critic Reviews for Beowulf
Audience Reviews for Beowulf
½
It's brilliantly presented with state-of-the-art CGI-animation and visual effects. Though many of its die-hard followers of the epic might not find this adaptation accurate, Beowulf is an entertaining blend of CGI with actual actors and daring action and drama. 4/5
A misshapen creature terrorises a Viking township leading to a bloodthirsty warrior answering the call of its ruler to slay the beast. Beowulf begins as you'd expect, with two dimensional Tolkien wannabes slapping each other's backs, bragging about their adventures and bouncing around the screen in computer generated blood baths. In fact, the heat of the battle featuring a naked Beowulf whose modesty is preserved by some laughably phallic scenery in a similar style to Austin Powers is almost comical, a comparison not helped by Angelina once again showcasing her Ivana Humpalot accent. The film only becomes remotely interesting once Grendel (almost incomprehensibly voiced by Crispin Glover) is disposed of; it is actually when the story shifts to the aftermath of the battle and the consequences of the secret bargain struck up by the relevant alpha males that the story by comic writing legend Neil Gaiman and Roger (Pulp Fiction) Avary comes to life. The visuals are very impressive as you'd expect, but computer generated imagery is only ever going to serve to remind you that you are watching a glorified Xbox cut scene despite some very attractive images. Strong voice acting by the central cast does help to draw you in however, and the tale concludes on just the right note. It's certainly a matter of taste as to whether you will enjoy the overblown swords and sorcery based spectacle, but Game Of Thrones fans in need of a politically themed hack and slasher fix will no doubt lap it up.
Beowulf Quotes
King Hrothgar: She's not my curse... not anymore.
Beowulf: If we die... it will be for GLORY, not gold.
Beowulf: I am Ripper... Tearer... Slasher... Gouger. I am the Teeth in the Darkness, the Talons in the Night. Mine is Strength... and Lust... and Power! I AM BEOWULF!
Grendel's Mother: Are you the one they call Beowulf? The Bee-Wolf. The bear. Such a strong man you are with the strength of a king. The king you will one day become.
Discussion Forum
Discuss Beowulf on our Movie forum!
News & Features