Bereavement
(2011)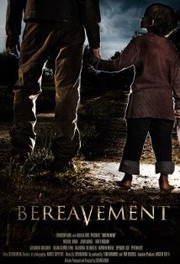 Bereavement Trailers & Photos
Movie Info
n 1989, six year old Martin Bristoll was kidnapped from his backyard swing in Minersville Pennsylvania. Graham Sutter, a psychotic recluse, kept Martin imprisoned on his derelict pig farm, forcing him to witness and participate in unspeakable horrors. Chosen at random, his victim's screams were drowned out by the rural countryside. For five years, Martin's whereabouts have remained a mystery, until 17 year old Allison Miller (Alexandra Daddario) comes to live with her Uncle, Jonathan (Michael Biehn). While exploring her new surroundings, Allison discovers things aren't quite right at the farmhouse down the road. Her curiosity disturbs a hornet's nest of evil and despair that once torn open, can never be closed. -- (C) Official Site
more
| | |
| --- | --- |
| Rating: | R (for sadistic bloody violence, torture, brief language and nudity) |
| Genre: | Horror |
| Directed By: | Stevan Mena |
| Written By: | Stevan Mena |
| In Theaters: | Mar 4, 2011 Limited |
| On DVD: | Aug 30, 2011 |
| Runtime: | |
Cast
News & Interviews for Bereavement
Critic Reviews for Bereavement
Audience Reviews for Bereavement
"Brought home a boy from the valley. He's young enough to learn the business my way."

This recent entry in the "small town psychopathic serial killer" genre isn't exactly a game-changer and it doesn't try to be that scary, but it is a tense, nasty affair that will probably appeal to some horror fans.

We've got out deranged killer that preys on young women, a young boy he kidnaps to "assist" him, and a new arrival from out of town (Alexandra Dadarrio) that enjoys taking long runs alone that just happen to pass by a sinister looking and isolated rundown meat-packing plant. If you're guessing that's a recipe for blood, brutality and death, then you're right.

Bereavement is fine for what it is, but I doubt I'll be compelled to watch it more than once. There's nothing really exceptional about it, though some of the outdoor cinematography is beautiful, there's a concentrated effort to give depth and a back-story to most of the main characters, and Alexandra is undoubtedly nice eye candy (if there was an Academy Award for filling out a halter top, she'd have it in the bag). The bottom line, though, is that this is such a thoroughly bleak movie that it's almost too realistically grim and hopeless to find entertainment in. That's not necessarily a "flaw", but it's definitely something some viewers will respond less favorably to than others.

Oh, and I don't think I've heard this much screaming in a film in quite a while. Have your ears prepared to be assaulted.
½
I was really looking forward to this prequel to 2004's Malevolent, but was sadly disappointed. The premise of the movie is great and right up my alley. A twisted gore fest about a serial killer who abducts a child, in the hope of making him his predecessor. Sounds good, but in actuality, it was very slow and extremely predictable. I kept hearing about how scary and messed up this film was, did they watch what I just watched? There are a few bright spots here, mainly the cast, which was terrific, and the end of the film, which while predictable, was still really cool to see. Spencer List stars as Martin, the serial killer in waiting. At the ripe old age of 13, this kid has become a B-Horror star! He's this cute, quiet, innocent looking kid, and before you know it he's killed you. He has this way about him, in these types of movies that make it seem real, and he is truly scary. The cast was great, the last twenty minutes was cool to watch, but really there's not much else here.
Discussion Forum
Discuss Bereavement on our Movie forum!
News & Features