The Big Combo
(1955)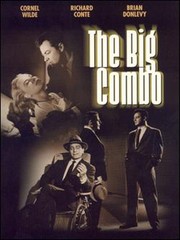 The Big Combo Trailers & Photos
Movie Info
The Big Combo is a nervous, claustrophobic gangster picture directed by the always fascinating Joseph H. Lewis. Cornel Wilde is an honest 90-buck-per-week cop who runs afoul of mob boss Richard Conte. Failing to bribe Wilde into laying off, Conte has the cop beaten up by his thugs. Wilde persists, even daring to pay attention to Conte's mistress Jean Wallace. Wilde eventually comes by the evidence he needs to bring the law down of Conte's operation. The best scene in the film -- indeed, one of the best sequences in all of film noir -- is the murder of mob flunkey Brian Donlevy, whose assassins thoughtfully turn off his hearing aid before administering the fatal shots (the scene is played in utter silence!) The most interesting aspect of The Big Combo is that, while Richard Conte is despicable through and through, he behaves throughout as if he is being victimized, managing to stir up a tiny bit of audience sympathy in the process.
more
Cast
News & Interviews for The Big Combo
Critic Reviews for The Big Combo
Audience Reviews for The Big Combo
½
The Big Combo left me kind of flustered when it was over for a couple of reasons. First, the story was pretty weak. Cornel Wilde as the worn out and obsessed detective going after the city's kingpin played by the otherwise smug and dull Richard Conte. Throw in a somewhat cute but mostly dopey Jean Wallace for good measure and mix them all together in a script that could've easily been written by Edward D Wood, jr. But at the same time The Big Combo also embodies everything that film noir is from a visual standpoint. It's incredibly atmospheric and beautifully composed courtesy of cinematographer John Alton and brilliantly directed by Joseph Lewis that you just might find yourself forgiving all of it's shortcomings because it looks so damn good. Especially during the execution of... well, you'll see. And that finale is the stuff that dreams are made of. The Big Combo is the femme fatale of film noir movies--it's incredibly beautiful but on the inside it's pretty much rotten otherwise.
The characters in "The Big Combo" aren't well-drawn or well-acted and there lies one of the film's biggest problems. While the script does have some interesting twists, it's flimsy and thinly written. Richard Conte provides a somewhat memorable performance, but the rest of the characters are instantly forgettable. "The Big Combo" works well when it comes to passing an hour and a half, but there's nothing about it that'll make you want to watch it again.
Discussion Forum
Discuss The Big Combo on our Movie forum!
News & Features