The Big Red One
(1980)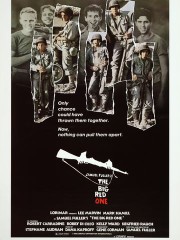 TOMATOMETER
AUDIENCE SCORE
Critic Consensus: The reconstruction of Samuel Fuller's epic account of his days in North Africa in World War II elevates the film into the pantheon of great war movies.
The Big Red One Trailers & Photos
Movie Info
Samuel Fuller's valedictory war picture, The Big Red One follows the First Infantry Division from Africa to Europe during the years 1942 through 1945. Lee Marvin portrays the division sergeant; he's tough and experienced, to be sure, but he takes on his job with cool professionalism rather than Hollywood bravado. Based on Fuller's own experiences, the film is a loosely constructed series of anecdotes. Among them are an insane asylum under bombardment while the inmates applaud and a climactic vignette in which a very young concentration camp internee dies while a friendly soldier plays piggy-back with the boy.
more
Cast
News & Interviews for The Big Red One
Critic Reviews for The Big Red One
Audience Reviews for The Big Red One
Sam Fuller's The Big Red One is a fine war film with stunning direction, a great story and exceptional acting. This ranks as one of the genre's finest achievements, a film that shows the harrowing nature of war, which is based on the experience of the director during his years fighting the war. I thought that this was an exciting piece of cinema. The Big Red One may have outclassed by other war films, but its impact is unmatched. This is a highly engrossing picture that is definitely going to appeal to genre fans, and there are several standout performances here as well. I've seen two previous Lee Marvin films, and I very much enjoy his work, however here, he really shines and delivers a standout performance that ranks as one of the finest I have seen of him. He really brings his character to life. Another performance is that of Mark Hamill, aside from fresh of the success of Star Wars, he had some momentum going for him, and he delivers something terrific here, I found him to be that type of character in a war film that steadily become alienated from war, and he really brought a vulnerability that was necessary to the film. With effective storytelling, Fuller crafts a picture that connects with the audience on so many levels, and in turn, it's one of the few genre classics to really thrill, and engage the viewer. Some war films tend to never get the story right, but here, considering the director was a WWII veteran; we get a different picture, a side of war that we've never seen. The Big Red One may seem a little dated by today's standards, but it's a classic war film that every film freak should view. I've watched the longer reconstruction because that was meant as the complete vision of Samuel Fuller's original work, since 50 minutes of footage were cut from the film, and it's a broad, ambitious version that really stands out among the older war pictures. The film may look dated, but it's definitely one of the finest war films ever made, and the fact that the director based it on his wartime experience makes this a definite must watch.
I saw this movie because Mark Hamill is in it, and he gives a good performance, but other than that, I didn't like this movie. It's just another WWII movie, and it's slow and boring too. I didn't care for it.
The Big Red One Quotes
Griff: I can't murder anybody.
Sergeant Possum: We don't murder; we kill.
Griff: It's the same thing.
Sergeant Possum: The hell it is, Griff. You don't murder animals; you kill 'em.
Johnson: Would you look at how fast they put the names of all our guys who got killed?
Sergeant Possum: That's a World War One memorial.
Johnson: But the name's are the same.
Sergeant Possum: They always are.
Discussion Forum
Discuss The Big Red One on our Movie forum!
News & Features