Blackhat
(2015)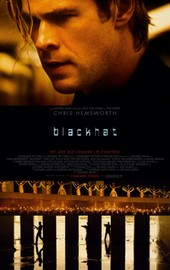 TOMATOMETER
AUDIENCE SCORE
Critic Consensus: Thematically timely but dramatically inert, Blackhat strands Chris Hemsworth in a muddled misfire from director Michael Mann.
Blackhat Trailers & Photos
Movie Info
Set within the world of global cybercrime, Legendary's Blackhat follows a furloughed convict and his American and Chinese partners as they hunt a high-level cybercrime network from Chicago to Los Angeles to Hong Kong to Jakarta.
more
Cast
News & Interviews for Blackhat
Critic Reviews for Blackhat
Audience Reviews for Blackhat
Hathaway: The real hit is still to come...

Blackhat is a slickly-produced techno-thriller from co-writer/director Michael Mann. While Mann continually enjoy exploring the relationship between cops and crooks, this film and the last couple efforts from Mann (Miami Vice, Public Enemies) seem to feature same issue: personality vs. interest. The fact is, all of Mann's films have tons of personality, given his stylish tendencies, but his recent efforts have unfortunately not left us with much to connect with, beyond the visuals, committed (yet somewhat shallow) performances, and visceral quality of the action in his features. Blackhat does nothing to really change that around and while a January release date is harsh sentencing for a director that continues to put what I imagine is tons of effort into his productions, it stands to reason that a film with a couple action-based highlights amidst a world filled with exotic locals, techno-jargon, and the handsomest hacker of them all could only draw up so much excitement. That in mind, I am still a Mann fan and while bloated, I tend to enjoy the visual language Mann puts on the big screen, overweighing my need for a more enjoyable screenplay, which is still unfortunately the issue with these recent Mann projects.

read the whole review at thecodeiszeek.com
½
"Blackhat" starts with a hacker striking at both a nuclear power planet in China, causing a deadly meltdown, and manipulating soy futures on Wall Street. Captain Chen Dawai(Leehom Wang) of Chinese Interal Security recognizes code that he wrote with Nick Hathaway(Chris Hemsworth) back when they were both in college. The only problem is that Hathaway is currently in prison but Chen gets him sprung for his task force he has formed with the Americans and his opposite number, Carol Barrett(Viola Davis), on condition that Hathaway is tracked 24/7 by GPS tracker and accompanied personally by his very own federal marshal, Mark Jessup(Holt McCallany). That's not mention Chen's kid sister Lien(Wei Tang) being along for the ride.

Admittedly, "Blackhat" may not be the strongest plotted movie ever, with its adding nothing to the tried and true it takes a hacker to catch a hacker plot. Luckily, this smart movie has more going on than that, as Michael Mann's handheld digital filming style finally hits the mark. That might have more to do with it not being applied to a period piece or Mann's own past but instead towards the near future(unless, I'm wrong the first date stamp we see is for March 2015), that assumes a very globalized planet, for better or for worse. As such, there is no looking back, as especially Hathaway, the unlikeliest of hackers, has no regrets and can only look forward.
Discussion Forum
Discuss Blackhat on our Movie forum!
News & Features