Breaking the Waves
(1996)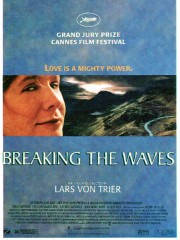 Breaking the Waves Trailers & Photos
Movie Info
With Breaking The Waves, director Lars von Trier fashions an often disturbing tale of the singular power of love. Bess (the Oscar-nominated Emily Watson) is a naïve, borderline simple young woman who lives in a Scottish coastal town ruled by the religious doctrine of its council of elders. Recovering from a mental breakdown caused by the death of her brother, Bess marries a rough yet compassionate and attentive oil rig worker named Jan (Stellan Skarsgård). For a brief time, the couple enjoys peaceful wedded bliss, with the worldly Jan introducing Bess to the mysteries of sex. Jan must soon return to his job on the rig, however, where he is paralyzed from the neck down in a freak accident. Bess' emotional trauma over Jan's injury turns into obsession as she prays to God for his recovery and offers to do anything to have her husband back whole. Jan, constantly medicated and profoundly depressed, asks Bess to have sex with other men and tell him about it, thinking this will allow her to return to a normal life. Bess, on the other hand, sees it as an expression of her devotion to Jan that even God won't be able to ignore. Bess's resultant downward spiral leads to a finale of both tragedy and spirituality. Breaking the Waves is widely regarded as one of the most distinctive European movies of the 1990s, marking von Trier's movement toward his influential Dogma 95 school of filmmaking, which emphasizes realistic situations of contemporary life, filmed without background music and with a hand-held, restlessly moving camera. ~ Don Kaye, Rovi
more
Cast
News & Interviews for Breaking the Waves
Critic Reviews for Breaking the Waves
Audience Reviews for Breaking the Waves
½
Emily Watson is a wonderful actress, her performance is the only thing this ugly thing has going for it. Mean spirited ultimately pointless film. The ending has to be one of the dumbest "ah come on!" moments ever put on film.
½
An honest, super depressing look at a mentally unstable woman (Emily Watson) and her marriage to an oil rig worker (Stellan Skarsgard), and how they deal with their relationship after he is left paralyzed due to a work accident, and his only demand of her is that she find another lover that will somehow aid his healing. While it is a soul-crushing throughout its duration, and it occasionally threatens to overstep its bounds and become offensive, one can not help but be in awe of the brutal honesty and graphic depiction of a marriage on the rocks Lars von Trier brings to the screen. Not only is it a romantic-drama, it also has a philosophical spin on the nature of religion and how the negative, secluded sections of the religious folk can be some of the worst human beings possible. It is anti-religious, but it is never an illustration of the norm of religious people. It is moreso a frank, disturbing look of a woman who needs help but the very people she turns to forsake her for their own selfish desires. Emily Watson's unforgettable, powerful performance drives this moving all the way to it's discouraging conclusion. It may not be easy to get through given its length and subject, but the way von Trier shoots this thing (with a handheld camera to capture a grainy feel), as well as his handle on the material is something to be in awe of.
Breaking the Waves Quotes
Bess McNeill: Sometimes I don't even have to tell him about it. Jan and me, we have a spiritual contact.
Bess McNeill: His name is Jan.
Discussion Forum
Discuss Breaking the Waves on our Movie forum!
News & Features