Bride Flight
(2011)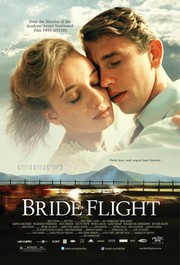 Bride Flight Trailers & Photos
Movie Info
A forbidden love, an impossible choice, a secret pact. Eager to escape the damp and suffocating atmosphere of post-war Holland, Dutch beauties Marjorie, Ada and Esther meet each other on the immigration flight to New Zealand, en route to join their future husbands, who are already settled there.During the flight the three young women befriend Frank, a young man who is also immigrating to seek a prosperous life in New Zealand. In their early years in this new country, the lives of Marjorie, Esther, Ada and Frank become entangled in brief relationships of love, lust and family before losing touch. It is only when the women reunite again fifty years later at Frank's funeral that they discover how much their lives had become intertwined through their different relationships with Frank. Inspired by the true story of the Last Great Air Race from London to Christchurch in October 1953, the KLM aircraft that won the race carried 40 Dutch immigrants to New Zealand. -- (C)Music Box
more
Cast
News & Interviews for Bride Flight
Critic Reviews for Bride Flight
Audience Reviews for Bride Flight
This was little more than a melodramatic romance novel brought to film, but one that was well told and interestingly presented. The characters were well drawn and their back stories satisfactorily filled in. The three pairs of actors portraying the women were excellently matched, the younger women easily discernible in the older. This viewer found the dark haired young Esther, played by Willeke van Ammelrooy to be particularly enchanting and the New Zealand scenery to be breathtakingly beautiful. The story was told in flashbacks as the three older women prepared for a funeral and revolved around the flight that brought them together and the events after they had emigrated that drove them apart. This viewer was surprised at how completely he was drawn in, even shedding a tear or two at the sweet way in which the film ended. While this will not alter the course of human events, it will nevertheless entertain.
In 2008, Frank(Rutger Hauer) has a fatal heart attack after inspecting his vineyards.

In 1953, Frank(Waldemar Torenstra) is a passenger on a flight of emigres to Christchurch, New Zealand that is also competing in an air race. Esther(Anna Drijver), one of the passengers and a fashion designer, asks Ada(Karina Smulders) to model a wedding dress, complimenting her on her figure. That might have something to do with her being pregnant, having already been married to Derk(Micha Hulshof) by proxy. Nerves and perhaps turbulence make Ada think about bolting at a refueling stop but Frank talks her back onto the plane, convincing her that life in New Zealand could not be any worse than Karachi. By comparison, Marjorie(Elise Schaap) is happy with her new prospects with Hans(Mattijn Hartemink) waiting for her on the ground.

"Bride Flight" has some good performances, makes excellent use of the beautiful New Zealand scenery and has one classic scene where Ada is forced to ride in the back of a truck for several hours while her friends take another road in life. But it really only manages to scratch the surface in providing a routine treatment of a potentially fascinating piece of history. Instead, of exploring the emigres adjusting to their new country(a couple of whom are escaping tragic pasts), it only really comes around to exploring identity(notice that many of the people at Frank's funeral are Maori which shows how well he may have been accepted) after a ten year jump in a question of paternity that is admittedly nowhere near as all-consuming as the average episode of "Brothers & Sisters."
Bride Flight Quotes
Discussion Forum
Discuss Bride Flight on our Movie forum!
News & Features