By The Sea
(2015)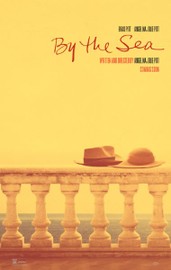 TOMATOMETER
AUDIENCE SCORE
Critic Consensus: By the Sea may intrigue celebrity voyeurs or fans of a certain type of arthouse cinema, but for most viewers, its beauty won't be enough to offset its narrative inertia.
By The Sea Trailers & Photos
Movie Info
A married couple takes a vacation in France in the 1970s and find that their time in a sleepy seaside town, complete with a unique array of locals, strengthens their bond and reaffirms their marriage.
more
Cast
News & Interviews for By The Sea
Critic Reviews for By The Sea
Audience Reviews for By The Sea
It's clear there is a driving force of sorts behind Angelina Jolie Pitt's (who I'll simply refer to as Jolie throughout this review because I'm not typing Jolie Pitt three hundred times) writing and direction, it's just not clear what that force is. While I never saw her debut, In the Land of Blood and Honey, last year's insanely promising but ultimately disappointing Unbroken more or less set the prospects for any future Jolie pictures to that of being hopeful, but not necessarily optimistic. While the less than enthusiastic response to Unbroken must have been a blow to not only the writer/directors ego, but to the faith she has in herself and her abilities it seems her reaction has been to return to the forum with a much lower-key project, inspired by the films of yesteryear and containing only a select number of characters. Jolie sets her film in the seventies and then isolates her characters to a French Riviera where this character study is almost forced into existence. Taking the idea of a strained marriage and somewhat bravely allowing such a dysfunctional portrait to be painted with herself and real life husband Brad Pitt in the roles Jolie goes for a restrained and bleakly artistic look at two people at the end of their ropes for reasons we're not exactly clear on. In fact, while I can appreciate a good slow burn, By the Sea is such a staggering epic of quietness and indulgence that the boredom overtakes the measured emotions by the time the twenty minute mark hits. The problem is the quiet characters and their inability to communicate make it difficult for the viewer to find anything interesting or worth investing in about them and thus the patience wears thin before the film ever glimpses it's portions that might seem interesting. There is a good movie in here somewhere, no doubt, a wholly engaging film about the natural dynamics of a seasoned couple and how the dealings of going through something unbelievably difficult while initially testing their bond might eventually lead to an even stronger one. Unfortunately, By the Sea is too generous with the amount of time we spend with this couple and too tedious in the events it depicts to be that film.

read the whole review at www.reviewsfromabed.com
Well, so much for Angelina Jolie as the next big actor-turned- director. Don't get me wrong, I really liked Unbroken from last year, though it was a bit underwhelming and way below expectations. I have yet to see In the Land of Blood and Honey, her first film, but By the Sea is not a good film. I'll give her and Brad Pitt for experimenting and I think Jolie deserves to have a voice as a director in the future, but By the Sea fell completely flat.

The one thing this film has going for it is its two leads. Knowing that Brad Pitt and Angelina Jolie are married in real life adds to the realism of the story, but their performances alone accomplish that. The film is also absolutely gorgeous to look at. I think if you were learning how to be a great cinematographer, this would be a good film to watch without the volume on. It's use of almost all natural light is a thing of beauty. Unfortunately, the story itself is obscure and unproductive. I understood the story but I don't know that I understood exactly what the film was trying to say.

The film revolves around a 1970's couple struggling to rekindle their marriage and they take to a small town in France for one last shot. Unfortunately, the film takes a few strange twists and turns that are so unnecessary and out of the ordinary that at times you feel like you're watching something fake or even a Lifetime movie. Whatever the film was trying to say about marriage or grief, it should have taken a different route to get to that message.

The first half of the film was somewhat interesting, mostly because of Jolie and Pitt, but once it takes a turn for the worse and brings in a second couple the film goes off the rails and turns into a mess.

+Pitt and Jolie's chemistry

+Cinematography

-What is it trying to say?

-Strange second half

-Gratuitous nudity

4.3/10
By The Sea Quotes
Vanessa: You know my reason.
Roland: You want to hurt me? Hurt me.
Roland: Are we ever going to talk about it? 'Nessa?
Discussion Forum
Discuss By The Sea on our Movie forum!
News & Features