The Chamber
(1996)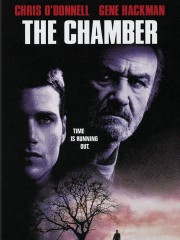 The Chamber Trailers & Photos
Movie Info
Based on a novel by John Grisham, this drama deals with a man trying to come to terms with his family and their ugly secrets. Adam Hall (Chris O'Donnell) is a successful attorney based in Chicago who travels to Mississippi to look into the case of Sam Cayhall (Gene Hackman). An outspoken racist and member of the Ku Klux Klan, Cayhall was convicted in the early '60s of the murder of a Jewish civil rights lawyer and his children. Pending a last-minute appeal, it looks as if Cayhall will finally go to the electric chair, and Adam has arrived to see what he can do. It hardly seems like the sort of case Adam would normally be involved with, until we discover Adam's secret: he is actually Cayhall's grandson, and despite his misgivings about the man's racist views, he wants to see if he can spare his life. Cayhall, however, has little use for Adam and even less regard for his legal skills. As Adam spends time with his Aunt Lee (Faye Dunaway), who witnessed Cayhall's execution of a black man years ago, he gets a more complete and disturbing picture of Cayhall's race hatred and the terrible toll it has taken on his family and the community. The Chamber marked the acting debut of former baseball and football star Bo Jackson.
more
Cast
News & Interviews for The Chamber
Critic Reviews for The Chamber
All Critics (42) | Top Critics (13) | Fresh (3) | Rotten (22) | DVD (1)
Lacking the surface glitz, attention-grabbing plot and star power of John Grisham's previous adaptations, Folley's film will also suffer due to comparisons with the similarly-themed and better Tim Robbins' Dead Man Walking, released last year.

There isn't a whole lot to the movie.

Entertainment Weekly
Top Critic

San Francisco Chronicle
Top Critic


Chicago Sun-Times
Top Critic
Audience Reviews for The Chamber
½
A hard-hitting and heart-racing edge of your seat thriller. Pulse-pounding and gut-wrenching. Gene Hackman gives one of his greatest performances ever
½
A great part played by Gene Hackman, with a good stoy, some boring parts, but worth a watch
The Chamber Quotes
Sam Cayhall: Save me. You don't look like you can save a turkey from Thanksgivin'.
Aunt Lee: Pretty good for poor white trash. How well I'll be accepted after everybody finds out I'm Hitler's daughter is another thing.
E. Garner Goodman: How much do you know about the death penalty?
Adam Hall: I've read everything there is.
E. Garner Goodman: Then you know nothin'.
Sam Cayhall: If you spend half as much time tryin' to be a lawyer instead of tryin' to be Dick Tracy, I might not be dead in five days.
Discussion Forum
Discuss The Chamber on our Movie forum!
News & Features