City of Women (La città delle donne)
(1981)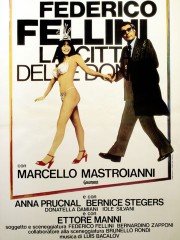 Tickets & Showtimes
City of Women (La città delle donne) Trailers & Photos
Movie Info
In this dream-sequence film, renowned Italian director Federico Fellini expounds at length on the nature, complexities, attitudes, and hang-ups of women and how this all relates to men "hunting" sexual conquests. Snaporaz (Marcello Mastroianni) is traveling in a compartment on a train when he lapses into sleep and dreams the ensuing story. He follows a woman off the train and through a field and then loses her. Soon, as a representative of the male sex in general he finds himself in a hotel, among myriad women attending a feminist conference. Surreal episodes take him through a villa with his alter-ego Dr. Katzone (Ettore Manni, who died during filming) and references to his sexual exploits. Reunited with his former wife for a moment, he starts another sequence which reviews his past.
more
Watch it now
Cast
News & Interviews for City of Women (La città delle donne)
Critic Reviews for City of Women (La città delle donne)
Audience Reviews for City of Women (La città delle donne)
½
"City of Women" is an extreme example of a film that rewards patience. It's well worth seeing, but also signals the start of Federico Fellini's less essential phase.

This is a 139-minute movie, and most of the first 55 minutes are painful to sit through. Fellini favorite Marcello Mastroianni (the first line is an unseen woman smirking "With Marcello again?") is Snaporaz, one of those classy but lecherous older men who populate so many European sex farces. He encounters a beautiful temptress on a train, instantly decides he must have her and impulsively follows her when she disembarks. We don't root for his desires to be satisfied.

After a bewildered stumble through some fields, he finds himself at a hidden resort where a convention of militant feminists is meeting. He's the only male in attendance beyond a trivial waiter or two. He has trouble locating his prey, but does encounter a host of bitter women declaring their superiority, cheering the idea of having multiple husbands and raging about the abomination of fellatio. Beyond one roller-skating scene, most of this segment is virtually discardable. There is no real insight into women, and neither side of the issue comes off sympathetic. It's an overlong film -- why not just cut the bulk of this?

Thankfully, a persecuted Snaporaz manages to escape this nightmare, but his troubles are just beginning. He flees the scene with help from a heavy-set motorcyclist, but only becomes the target of her desperate, unwanted advances. Next, he tangles with a car of hell-raising, teenage nymphets. At this point, "City of Women" has earned little beyond frowns and eyerolls.

But hold on. That's before Snaporaz stumbles onto the estate of Dr. Xavier Züberkock. Suddenly, the film takes off. Züberkock is a caricature of the ultimate womanizer, and his lavish home is a shrine to his conquests. He's hosting a party to commemorate his 10,000th partner, and his home is crammed with spectacularly attractive people.

From there, the sights just grow wilder and wilder. They begin with a perverse, mausoleum-like chamber covered from floor to ceiling with large portraits of Züberkock's women. Push a button and you hear their recorded moans of ecstasy. Hilarious. As the debauchery grows, a circus woman magically sucks coins into her vagina. A lengthy row of men masturbates while watching Mae West movies, bobbing under the covers of an enormous bed. Mastroianni charmingly dances with two near-nude showgirls (anticipating his later turn in "Ginger and Fred"). He glides down a long chute (half rollercoaster, half birth canal) while re-experiencing pivotal scenes from his life. He rides in a giant balloon shaped like a naked woman. However, he also encounters his randy wife Elena, who arouses guilt and makes him reconsider his frivolous lusts. The sights border on Russ Meyer turf at times (particularly a few extravagant bustlines, not to mention a from-behind shot of a kneeling woman that lands surprisingly close to pornography), but Fellini's visual imagination is so dazzling that we can only whistle in awe.

It's interesting how the final section is so reminiscent of Bob Fosse's "All That Jazz" (released the previous year), given that "All That Jazz" was so Fellini-derivative itself. Could Fellini's vast influence have wrapped back around to himself?
[font=Century Gothic]Federico Fellini's "City of Women" starts with a train going into a tunnel.(How's that for phallic symbolism?) On that train is a middle aged man, Snaporaz(Marcello Mastroianni), who follows an attractive woman(Bernice Stegers) into a bathroom for sex but they are interrupted when the train comes to a stop at her station. He follows her off the train through the woods and into a women's convention...[/font]
[font=Century Gothic][/font]
[font=Century Gothic]"City of Women" is a phantasmagoric stream of consciousness that Fellini always manages to keep moving away from devolving into either complete nonsense or vulgarity. It is mostly concerned with how men view and objectify women, always trying to keep them at arm's length.(Correct me if I'm wrong but only one of the women out of the many in the entire movie is blessed with a name.) Because of this, Snaporaz has never fully matured into a complete human being.[/font]
Discussion Forum
Discuss City of Women (La città delle donne) on our Movie forum!
News & Features