Coneheads
(1993)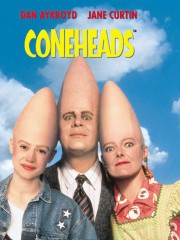 Tickets & Showtimes
Coneheads Trailers & Photos
Movie Info
The popular Saturday Night Live sketch was expanded to fill the big screen in 1993, with the same story of aliens Beldar (Dan Aykroyd) and Prymaat (Jane Curtin). Despite their coneheads, the couple adapt to life on Earth surprisingly well after crash-landing on the planet.
more
Cast
News & Interviews for Coneheads
Critic Reviews for Coneheads
Audience Reviews for Coneheads
Granted, an SNL skit lampooning aliens trying to fit in stretched to the limit and beyond, but its still a guilty pleasure with loads of bit parts by a star studded cast. David Spade's suck-up bureaucratic underling nearly steals the show.
Coneheads is mildly amusing here and there, unfortunately the script suffers from a good, engaging plot; therefore the film ends up being a mediocre comedy with unsatisfying results. Coneheads has a few laughs here and there, but for the most part, the result is uneven comedy that has many jokes that simply fall flat. Coneheads could have been a good comedy, but because of an awful script, the film doesn't cut it. I think it's a shame because there's a good comedic cast that director Steve Barron has at hand here, but they don't seem to go nowhere. The film is a mess, and a waste of time. I think it's too bad because this film had the potential of being a good, fun comedy. Not even the good cast of comedians can save this film that is sloppily written. Coneheads is a missed opportunity and even though there are some funny cast members here, they are wasted on-screen and can't save this film. Though mildly amusing at times, the jokes found in Coneheads fall flat and are unfunny. This had the potential of being a funny comedy; unfortunately it ends up being a mediocre film with barely any laughs. The cast like I said, is wasted on such poorly written material, it's a great shame. Coneheads could have been a good comedy, but the script had barely any potential for making this film work. Coneheads is a disappointing, mediocre film that could have been far better than this.
Coneheads Quotes
Beldar Conehead: [furious to be kept waiting over his car repair] What choice do I have? It is as if you have grabbed me by the base of my snarglies!
The Highmaster: Let it be written... are you writing this?
The Highmaster: Therefore, you will... NARFTLE THE GARTHOK!
Discussion Forum
Discuss Coneheads on our Movie forum!
News & Features