Constantine
(2005)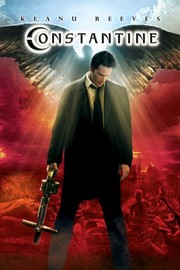 TOMATOMETER
AUDIENCE SCORE
Critic Consensus: Despite solid production values and an intriguing premise, Constantine lacks the focus of another spiritual shoot-em-up, The Matrix.
Constantine Trailers & Photos
Movie Info
An ordinary man with an extraordinary gift must save the planet from evil in this action-packed fantasy. Unknown to most people, the world is crowded with spirits both good and evil who walk among us in human guise. One of the few who can see these spirits is John Constantine (Keanu Reeves), but the responsibility of his vision is more than he can stand, and he tries to kill himself. Saved from death, Constantine must now atone for his actions by acting as a guardian in the middle ground between Paradise and Hell. Constantine also makes the acquaintance of Angela Dodson (Rachel Weisz), a police detective who becomes aware of his unusual gift while looking into the death of her sister; he leads her into the unknown world of the spirits and soon circumstances demand that they join forces in a desperate bid to save humanity from evil. Constantine also features Tilda Swinton, Peter Stormare, and Gavin Rossdale, the latter best known as the lead singer of the rock group Bush. Michelle Monaghan (Made of Honor) was originally in the film (cast as a half-breed demon) but director Francis Lawrence cut her scenes. ~ Mark Deming, Rovi
more
Cast
News & Interviews for Constantine
Critic Reviews for Constantine
Audience Reviews for Constantine
½
The comic adaption scores with perfect casting for the minor characters and a very unsettling atmosphere. Of course there is a little much CGI at times, but the result is still very entertaining. If only this film had even more Tilda Swinton scenes.
Prime example of a film that should have been much better than what is presented on-screen. The film tries to be far too ambitious than what it actually is, and in the long run, it loses track of its ideas and it ends up being a ridiculous mediocre outing. The film could have been quite good considering some of its ideas, but overall, it never becomes anything watchable and the cast here just deliver bland, over the top performances which make you lose interest. I really wanted to enjoy the film, and I went into this one with an open mind, unfortunately, this film was a letdown. The concept had the potential of being a great film going affair, but this was a poorly executed movie that quickly loses its spark of energy, and it tends to rely more on its visuals to make things engaging for the viewer. The power of a good film lies in its ability to tell a great story, but with Constantine, we don't have that vibe whatsoever, and it just ends up being a waste of time. I really wanted to enjoy it, but couldn't as there were too many lacking ideas in the film to really make it a watchable affair. Constantine is a mediocre film, a visual feat that is hollow in its story, yet tries too hard at grabbing your attention with a good sense of visuals, which is pretty much what this delivers in. Constantine is a mediocre film that is more ridiculous than anything, and it should have been much better than this.
Constantine Quotes
Gabriel: Lucifer!
Satan: This world is mine, in time. You, best of all of us, Gabriel! You'd understand. Perdition.
Gabriel: Son of perdition. Little horn! Most unclean!
Satan: I do miss the old names. Time to go home, son.
Gabriel: I will smite thee, in His honor.
Satan: Looks like somebody doesn't have your back any more.
Gabriel: Father...
John Constantine: I guess there's a plan for all of u. I had to die twice just to figure that out. Like the books says, he works his works in mysterious ways. Some people like it, some people don't.
John Constantine: This is Constantine. John Constantine, asshole.
John Constantine: So when a half-breed breaks the rules, I deport their sorry ass straight back to hell. I don't get them all, but I've been hoping to get enough to ensure my... retirement.
Angela Dodson / Isabel Dodson: I don't understand.
John Constantine: I'm a suicide, Angela. When I die, the rules say I've got just one place to go.
Angela Dodson / Isabel Dodson: You're trying to buy your way into heaven.
John Constantine: What would -you- do if you were sentenced to a prison where half the inmates were put there by you?
Discussion Forum
Discuss Constantine on our Movie forum!
News & Features