The Crazies
(1973)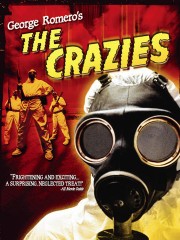 The Crazies Trailers & Photos
Movie Info
George A. Romero returns to Night of the Living Dead turf with middling success in this quirky end-of-civilization thriller, also released as The Crazies. The paranoid scenario involves a government-engineered killer virus (identified by the title moniker) which is accidentally released into the water supply of Evans, Pennsylvania, driving most of the inhabitants stark-raving mad and forcing the declaration of martial law as the entire town is placed under quarantine. This does not sit well with the locals -- even those who have not yet been contaminated who consider the military mobilization tantamount to war. Romero keeps the momentum up by causing an escalating series of disasters, with each attempt at resolution making the horrors exponentially worse. One might be led to consider this a metaphor for Vietnam -- the military's presence is depicted as more threatening than the killers they've been sent to subdue -- but the film as a whole is too wildly erratic to focus on allegory, generating instead a ham-fisted criticism of government power. Pontificating aside, this is an effective, fast-paced thriller, thanks to some very effective setpieces, steadily mounting tension and outbursts of jarring violence.
more
Cast
News & Interviews for The Crazies
Critic Reviews for The Crazies
All Critics (19) | Top Critics (3) | Fresh (8) | Rotten (7) | DVD (10)

New York Times
Top Critic
It may be a second-tier Romero film, but hell, it's still a Romero film.

It's tough for a dyed-in-the-wool George Romero apologist to observe that a film of Romero's in good repute is an amateurish, exploitative piece of shit
Audience Reviews for The Crazies
First of all, Romero reuses the plot of Night of the Living Dead, but sets it outside instead. I don't know what the point of this movie is supposed to be, why didn't he just make another zombie movie? And why did they remake this?
I think I watch Romero movies just so I can give them 1 star.
Discussion Forum
Discuss The Crazies on our Movie forum!
News & Features