Crocodile Dundee
(1986)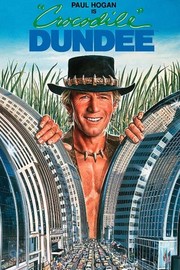 Tickets & Showtimes
Crocodile Dundee Trailers & Photos
Movie Info
Accustomed to a simple life in the Australian Outback, a legendary crocodile hunter has trouble adjusting to his new surroundings when an American journalist brings him to New York City. This Australian comedy delivers exactly what one would expect: plenty of fish-out-of-water gags about the hunter's reactions to the absurdity of modern urban life. Though he initially seems rather naive, Paul Hogan's "Crocodile" Dundee soon demonstrates that his natural ways are rather quite well-suited to city life, proving himself equally adept at defeating muggers and charming members of high society. Along the way, as one might expect, a romance develops between the rugged hunter and the hardened journalist, who finds herself enchanted by his down-to-earth behavior. The story is not particularly original, but the film's good-natured humor proved extremely palatable to audiences, as indicated by its worldwide box office success. ~ Judd Blaise, Rovi
more
Cast
News & Interviews for Crocodile Dundee
Critic Reviews for Crocodile Dundee
Audience Reviews for Crocodile Dundee
Crocodile Dundee is a good little comedy film starring Paul Hogan. The film is pretty funny, and has a good cast starring alongside Hogan. The jokes are funny and the story is interesting. I very much enjoyed this film and the idea behind the film. This is an entertaining film that everyone can enjoy. The film is not perfect, but for what it is, it works well enough to be an effective comedy film. The film is lots of fun and is silly. The film doesn't break new ground, but it does what it sets out to do. This is a fun comedy that if you're in the right mood, you're sure to enjoy. The film will make you laugh and Paul Hogan's performance as Crocodile Dundee is terrific. No other actor could play him. He really makes the character likeable, and the situations that he encounters are humorous. Not the best comedy that one could see, but definitely not the worst. This is an amusing film that will most likely make you smile. If you're looking for a good comedy to watch, then this is the one. It's very different, but that's what makes it good. The films cast make this film a favorite and one of those must see comedies. The film, like I said many times before is not perfect, but it's enjoyable enough for you to be very entertained as you see two absolutely different cultures collide.
½
I must have seen this movie more times than I have seen my own reflection and still it makes me laugh until I have tears in my eyes. A true classic, Croc Dundee is a mainframe of what makes family comedies timeless.
Unknown Hobo
Super Reviewer
Crocodile Dundee Quotes
Sue Charlton: Is it dead?
Michael J. "Crocodile" Dundee: [looks at the crocodile with his knife in its skull] Well, if it isn't, it'll be a helluva job skinning the bastard.
Neville Bell: Oh no, you can't take my photograph.
Sue Charlton: Oh, I'm sorry, you believe it will take your spirit away.
Neville Bell: No, you got lens-cap on it.
Michael J. "Crocodile" Dundee: Call that a knife? This is a knife.
Discussion Forum
Discuss Crocodile Dundee on our Movie forum!
News & Features