Dazed and Confused
(1993)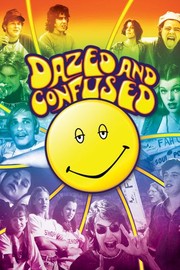 TOMATOMETER
AUDIENCE SCORE
Critic Consensus: Featuring an excellent ensemble cast, a precise feel for the 1970s, and a killer soundtrack, Dazed and Confused is a funny, affectionate, and clear-eyed look at high school life.
Tickets & Showtimes
Dazed and Confused Trailers & Photos
Movie Info
Like George Lucas' American Graffiti, Richard Linklater's Dazed and Confused is an affectionate look at the youth culture of a bygone era. While Lucas took aim at the conservative 1950's, Linklater jumps ahead a generation to the bicentennial year of 1976 to celebrate the joys of beer blasts, pot smoking and Frampton Comes Alive. Set on the last day of the academic year, the film follows the random activities of a sprawling group of Texas high schoolers as they celebrate the arrival of summer, their paths variously intersecting at a freshmen hazing, a local pool parlor and finally at a keg party. ~ Jason Ankeny, Rovi
more
| | |
| --- | --- |
| Rating: | R (for pervasive, continuous teen drug and alcohol use and very strong language) |
| Genre: | Comedy |
| Directed By: | Richard Linklater |
| Written By: | Richard Linklater |
| In Theaters: | Sep 10, 1993 Wide |
| On DVD: | Jun 30, 1998 |
| Runtime: | |
Cast
News & Interviews for Dazed and Confused
Critic Reviews for Dazed and Confused
Audience Reviews for Dazed and Confused
Richard Linklater has always been known for his slice-of-life type of storytelling, and in my opinion, "Dazed and Confused" represents that almost more than any film he has ever conjured up. Coming of age films revolving around high-school or college life have always been hit or miss, depending on the material the filmmakers decide to delve into, which has the chance of either heightening a film or digging it's own grave upon release. "Dazed and Confused" is among the best films in it's genre. Following graduating high school seniors as they begin their upcoming year-long trample of the freshmen, this film is more about these characters living in the moment and ignoring the harsh reality that is awaiting some of them in the coming weeks. Trying to get to a huge party by the climax of the picture, this film is the definition of a "hangout" if I've ever seen one.

Released in 1993 and taking place in the 1980's, this film was a launching pad for many Hollywood actors known today in the 21st century. Ben Affleck, Matthew McConaughey, and Milla Jovovich (to name a few), definitely have Richard Linklater to thank for displaying their range with such care, even if they have to portray stoners for the majority of this picture. Exploring romance, bullying, drugs, alcohol, responsibility, and life itself, this film is able to capture everything that teenagers between the ages of fourteen and nineteen truly need to understand. "Dazed and Confused" manages to juggle all of these things while still remaining a hilarious comedy and a fun hangout picture.

The risky filmmaking that Richard Linklater pulls off in almost every film he sets out to make, is always commendable, because he seems to never do any wrong with it. In films such as "The Before Trilogy," he is able to build a lifelong relationship/friendship by having two characters hangout for 90 minutes. Doing the same thing here, within 102 minutes, the viewers will be able to understand which characters are actually as they appear, which ones have been influenced, unsure, or have other issues outside of school. His dialogue is extremely engrossing, which always makes up for the lack of a full-on story. His stories are the characters most of the time, which is why he is one of the most unique filmmakers around today. "Dazed and Confused" came at the beginning of an amazing career for writer/director Richard Linklater, and it still holds up today as one of the definitive hangout films. It may be slightly slow at times if you are hoping for none-stop comedy and high school quarrels, but it takes it's time to get it's message out there. If you know what you are in for, this is a near perfect film.
Richard Linklater is one of those directors that consistently delivers fresh and original material yet somehow remains a filmmaker with a lower profile. His projects certainly gain the respect they deserve but they never really go over and above that in terms of awards. He's always been innovative and has adopted some daring approaches to filmmaking with the likes of his free-form indie debut "Slacker", the expansive "Before Sunrise" trilogy, the philosophical "Waking Life" and it's rotoscope animated companion piece "A Scanner Darkly". Even his forthcoming "Boyhood" - a 12 year project following a boy's journey from 5 to 18 years old - is a feat that few, if any, directors have tackled. However, one of his most poignant and entertaining escapades happens to be the mosaic "Dazed and Confused". It was largely ignored upon it's release but has since gained a strong cult status. And for very good reason.

The year is 1976 and it's the last day of high school in a small Texan suburbia. Everyone's up for a party and in search of booze and drugs but first, the incoming freshmen must go through some embarrassing initiation rituals organised by the senior students, who take great pleasure in putting the youngsters in their places.

Much like his aforementioned and experimental approach to "Slacker", Linklater doesn't have a lot going on narratively. He's fully aware of this, however, and acts only as a mere vessel in allowing his actors the space to breathe and run free in their roles. That being said, there's still a complete focus here and the result is far more solid and entertaining than his debut. It's not often I'll praise a film for it's lack of narrative but in the case of "Dazed and Confused" it's the characterisation that leads the way and each and every one of the actors really shine; Wiley Wiggins is our young guide throughout this turbulent time for teenagers as he falls into a friendship with the senior students on his last day of freshman year and Linklater astutely captures a whole myriad of teenage angst and the carefree emotions of a disaffected youth.

Let's not forget that this was only Linklater's second film and it wasn't just him that was finding his way, but also the impressive cast that he put together. Largely unknown at the time of the film's release, many of the actors would go on to become part of the Hollywood firmament. We get well judged performances from all sorts of high school types; from Jason London and his jock pals Sasha Jenson and Cole Hauser to Rory Cochrane's stoner, Adam Goldberg's nerd and Ben Affleck, playing one of his most unlikeable characters, as the school bully. The most memorable from the entirely great ensemble, though, is a small but dynamic and scene stealing role for Matthew McConaughey as the older guy who refuses to grow up and move on.

Outwith the performances, Linklater also has a keen eye for capturing the 70's setting (in all it's flair and hair) and taps perfectly into the tone of the era. It's a nostalgic look back at daunting initiations, rebellion and the agonising awkwardness of adolescence and it's told with an affectionate wit and charm. I may not have went to an American high school or got involved in tanning some freshman ass with a pre-made baton but the energy and love for this poignant time really shines through and still operates at a level that will appeal to everyone who has any memory at all of their school experiences or peer pressure.

Sharing much in common with George Lucas' "American Graffiti" or Greg Mottola's more contemporary "Superbad", this is a funny and insightful coming-of-age contemplation. Linklater has delivered some wonderful film's over the years and I'm sure he'll continue to do so but, so far, this is his best film to date. It's absolutely superb.

Mark Walker
Dazed and Confused Quotes
Slater: Are you cool, man?
Mitch Kramer: Like how?
Slater: Okay.
O'Bannion: Oh you didn't hear? I got a shotgun pulled on my ass!
Kevin Pickford: Walkin' down the hall, by myself, smokin' a jay with fifty elves.
Kevin Pickford: Don, give the beer back, man!
Don Dawson: I paid for the beer, man.
Discussion Forum
Discuss Dazed and Confused on our Movie forum!
News & Features