Death Sentence
(2007)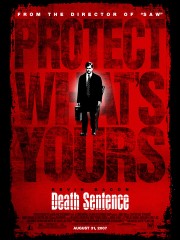 Death Sentence Trailers & Photos
Movie Info
Nick Hume is a mild-mannered executive with a perfect life, until one gruesome night he witnesses something that changes him forever. Transformed by grief, Hume eventually comes to the disturbing conclusion that no length is too great when protecting his family.
more
Cast
News & Interviews for Death Sentence
Critic Reviews for Death Sentence
Audience Reviews for Death Sentence
Martin Sahlin
Super Reviewer
Death Sentence would be the worst movie of the year if it weren't for two people. The first being Kevin Bacon. He creates the character this kind of movie needs. You're everyday man with the perfect family and the perfect job. Anyone can relate to him. But when his son is killed in a random robbery by a vicious gang, he takes it upon himself to enact his own revenge plot against them. It sucks when the judicial system can't help you, but I hear crap like this on the news all the time: scumbags getting off for killing innocent people based on sheer technicality. That's why you can cheer for a guy like this in the movies. It's cathartic.
The second is director James Wan. He doesn't really try to make the horrid screenplay better. He just covers the flaws up in style, flair, and some really hilarious action pieces. The gang members of this movie really are the dumbest gang members in the world, but then again, that can be said about any street gang. While he is often in too much of a hurry to get to the next action scene, he gets the required performances out of the actors. There isn't much to care about, but I think that sort of saves the film.
This is cinematic cheese at its finest, and I'm not hear to watch a story. I want to see dumb asses get their faces blown off by Kevin Bacon and his shotgun.
Great suspenseful thriller. Pretty graphic but very entertaining.

Grade: B+
Discussion Forum
Discuss Death Sentence on our Movie forum!
News & Features