Deliverance
(1972)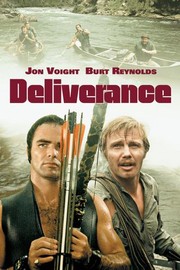 Tickets & Showtimes
Deliverance Trailers & Photos
Movie Info
Adapted from James Dickey's popular novel, John Boorman's 1972 movie recounts the grueling psychological and physical journey taken by four city slickers down a river in the backwoods of Georgia. At the behest of Iron John-esque Lewis (Burt Reynolds), the less adventuresome Ed (Jon Voight), Bobby (Ned Beatty), and Drew (Ronny Cox) agree to canoe down an uncharted section of the river before a dam project ruins the region. After warnings from the grimy, impoverished locals, and Drew's tuneful yet ominous "Dueling Banjos" encounter with a mute inbred boy, the four men embark on their trip, exulting in the beauty of nature and the initial thrill of the rapids. The next day, however, things begin to take a turn for the worse when Bobby and Ed decide to rest on shore after becoming separated from Lewis and Drew. Two rifle-wielding mountain men (Bill McKinney and Herbert "Cowboy" Coward) emerge from the woods, tying up Ed while one of them rapes Bobby and makes him "squeal like a pig." Lewis and Drew rescue them, but the attack irrevocably changes the tenor of the journey. As the river gets rougher and rougher, the men come to nightmarish grips with what it means to survive outside the safety net of "civilization." ~ Lucia Bozzola, Rovi
more
Cast
News & Interviews for Deliverance
Critic Reviews for Deliverance
Audience Reviews for Deliverance
Four friends explore the whitewater rapids of country backwoods, but their fishing trip turns tragic when one of their members is sexually assaulted.
In what could be a cliche horror/slasher film, Deliverance explores themes of civilization and ethical dilemmas. The scenes between the backwoods, redneck natives and the cultured, civilized explorers take on a unique significance because we're meant to question the characterizations with which we approach these people. Are the civilized really that civilized? Does one have to respond to violence with violence in a violent context?
Strong performances by Jon Voight, whose character acts as a kind of moral center to the film (the film is - in some ways - a battle for Ed's soul), and Burt Reynolds, the adaptable tough guy, carry the film.
Overall, this is a classic for good reason, a film that takes serious issues with the gravity they deserve.
Jim Hunter
Super Reviewer
"Sometimes you have to lose yourself 'fore you can find anything."

Intent on seeing the Cahulawassee River before it's turned into one huge lake, outdoor fanatic Lewis Medlock takes his friends on a river-rafting trip they'll never forget into the dangerous American back-country.

REVIEW
One of the most famous works made by John Boorman, Deliverance is also one of the most momentous movies shot in the seventies. Its reputation comes from the fact that the director chose to take the opposite view of how nature was commonly perceived in American cinema. Indeed, many films showed a positive view of it and showcased it as a happy refuge where man could find relief and strength from a stressful civilization. In a way, this is the goal that the four main protagonists in Boorman's film indirectly try to reach. They decide to go down the river in a canoe to go back to their roots and to take advantage of a rural place that is bound to be swallowed up by a dam. At first, Boorman seems to be on their side. The film depicts numerous shots of a gorgeous river and imposing landscapes. Details reinforced by a slow, contemplative rhythm and a discreet editing. Moreover, Drew (Ronny Cox) tries to communicate with a muted peasant through music.

But little by little, Boorman reveals to the audience that elements of these beautiful landscapes make nature dangerous and hostile to the four adventurers. One can note down that before the apparition of the two silly peasants, Lewis (Burt Reynolds) had animal instincts in him. After the killing of one of the two men, he chooses to bury the corpse and not to call the police. From this watershed onwards, Boorman manages to create an intense tension that won't subside. On the contrary, it will increase with the other misadventures endured by the four men. None of them will be spared and all of them will keep physical or moral scars from this sad trek. The message conveyed by the filmmaker is clear: man must accept society and his return to nature can only damage his personality. A must see film.
Lorenzo von Matterhorn
Super Reviewer
Deliverance Quotes
Bobby Trippe: Weeeeeeeeeee! Weeeeeeeeeeee!
Drew Ballinger: Is he alive?
Lewis Medlock: Not now.
Toothless Man: He got a real pretty mouth ain't he?
Drew Ballinger: Goddamn, you play a mean banjo!
Discussion Forum
Discuss Deliverance on our Movie forum!
News & Features