Dinner for Schmucks
(2010)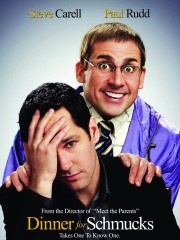 TOMATOMETER
AUDIENCE SCORE
Critic Consensus: It doesn't honor its source material -- or its immensely likable leads -- as well as it should, but Dinner for Schmucks offers fitfully nourishing comedy.
Dinner for Schmucks Trailers & Photos
Movie Info
Tim, an up-and-coming executive, has just received his first invitation to the "dinner for idiots," a monthly event hosted by his boss that promises bragging rights (and maybe more) to the exec that shows up with the biggest buffoon. Tim's fiancée, Julie, finds it distasteful and Tim agrees to skip the dinner, until he bumps into Barry - an IRS employee who devotes his spare time to building elaborate taxidermy mouse dioramas - and quickly realizes he's struck idiot gold. Tim can't resist, and invites Barry, whose blundering good intentions soon sends Tim's life into a frenzied downward spiral and a series of comic misadventures, threatening a major business deal, bringing crazy stalker ex-girlfriend, Darla, back into Tim's life and driving Julie (or so Tim thinks) into the arms of another man.
more
Cast
News & Interviews for Dinner for Schmucks
Critic Reviews for Dinner for Schmucks
Audience Reviews for Dinner for Schmucks
"Dinner For Schmucks" gives the feeling of an average over-the-top comedy, but it's the exact opposite when following through on this film. Steve Carell plays a very odd character who is always there to make a sad moment funny. While Paul Rudd is being invaded with problem after problem, the movie unravels it's soft heart, before jumping back into it's hilarious comedic style. The jokes fly minute by minute and the characters grow in every scene; However, the film takes too much time to get to the point, and I actually almost forgot about the dinner altogether by the end. Dinner for Schmucks has laughter, heart, and packs a pretty big punch in the acting category, but falls flat on originality. "Dinner for Schmucks" is a pretty funny comedy, but that's it!
Huge misfire!!! bad result in my eyes as this film really is terribly disappointing. There is hardly any funny stuff anywhere! unless you count Carell screaming like an infant at times to be funny?. Apart from a few nice lines here and there and one dinner scene with Carell, Rudd and 'Little Britain's' David Williams which is quite amusing but not hilarious that's it really. The plot is pretty thin, the characters are just dull, you just don't really care about any of them, the ending is dumb and childish and Carell's character is actually rather annoying.

Another poor film from Carell who really should stick to TV, I wanted to like this I really did, had high hopes for the 'Dumb n Dumber' type script but alas it falls well short and like the recent 'Grown Ups' is a total wasted opportunity.
Dinner for Schmucks Quotes
Barry: In the words of John Lennon, 'You may say I'm a dreamer, but I'm not.'
Tim: The only one.
Therman: BARRY. Tell us why your wife left you.
Barry Speck: [mumbles]
Therman: Louder, Barry.
Barry Speck: I lost her clitoris.
Susana: You lost her what?
Barry Speck: I told her it was probably in her purse...
Susana: No, Barry, do you know what a clitoris is?
Barry Speck: I don't know what half the stuff in her purse is.
Julie: You tell your friend Tim, he can, uhm, you tell him he can kiss my ass.
Barry: Oh, don't have to we have a picture.
Henderson: I have a bunch of singles left from your sisters birthday party....is Cinnamon a family name?
Discussion Forum
Discuss Dinner for Schmucks on our Movie forum!
News & Features