Dirty Grandpa
(2016)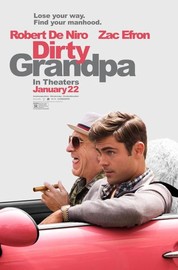 TOMATOMETER
AUDIENCE SCORE
Critic Consensus: Like a Werther's Original dropped down a sewer drain, Dirty Grandpa represents the careless fumbling of a classic talent that once brought pleasure to millions.
Dirty Grandpa Trailers & Photos
Movie Info
Jason Kelly [Zac Efron] is one week away from marrying his boss's uber-controlling daughter, putting him on the fast track for a partnership at the law firm. However, when the straight-laced Jason is tricked into driving his foul-mouthed grandfather, Dick [Robert De Niro], to Daytona for spring break, his pending nuptials are suddenly in jeopardy. Between riotous frat parties, bar fights, and an epic night of karaoke, Dick is on a quest to live his life to the fullest and bring Jason along for the ride. Ultimately, on the wildest journey of their lives, "dirty" Grandpa and his uptight grandson discover they can learn from one another and form the bond they never had.
more
| | |
| --- | --- |
| Rating: | R (for crude sexual content throughout, graphic nudity, and for language and drug use) |
| Genre: | Comedy |
| Directed By: | Dan Mazer |
| Written By: | John Philips, John Phillips |
| In Theaters: | Jan 22, 2016 Wide |
| On DVD: | May 17, 2016 |
| Runtime: | |
Cast
News & Interviews for Dirty Grandpa
Critic Reviews for Dirty Grandpa
Audience Reviews for Dirty Grandpa
"Dirty Grandpa" boasts one great thing, and one great thing only. The chemistry between Robert DeNiro and Zac Efron is much better than I was expecting it to be, and I really bought into their troubled relationship which each other. On the verge of marriage, Jason Kelly (Efron) and his Grandfather set out on a trip to Florida once his wife passes away. At it's core, this film is here to explore these characters emotionally as the audience watches them take their wacky trip. Self discovery and choosing what is right and wrong in life is what the message is here, and whether or not I bought into that is another story. I admired the attempt at something heartfelt, but when all of your humour is raunchy dialogue and visuals, it is hard to take a moment to enjoy the nice moments. "Dirty Grandpa" tries way too hard to impress it's target audience, and becomes a sloppily made comedy that really is not all that funny. In the end, I admired the attempt, but the execution was a little much for my taste. It really is a shame, because I love this cast, but they were not given enough to do. I did not hate sitting in the theatre watching this, but was it really worth the time? Sadly no.
Upon reading other reviews for this film, I've seen people say things like, "has Robert De Niro lost his mind?" and "you know you're pretty desperate for work when you start ripping off Johnny Knoxville." It is for this reason, that people are staying away from this film, and they are making a big mistake, here's why. At 73, with over one hundred films under his belt, is it really that surprising that Robert De Niro is bored and looking to try something new? In reviewing his credits, he's never been in what one would call a raunchy comedy, and for it what it's worth, he was outstanding. De Niro plays a man who has just lost his wife of fifty year, and is looking to reconnect with his Grandson, and of course get laid. After tricking his Grandson into taking him to Florida, the two wind up at Spring Break in South Beach, where the hilarity begins. De Niro's grandson is played by Zac Efron, who took a while to lose the teen idol label and find his niche as the awkward, but lovable guy in these extreme comedies. Their two characters are so different, that just bringing the personalities together is enough to make things funny, but when you throw them into ridiculous situations together the laughter is off the charts. Personally, I am someone who has found some of the most classic comedies of all time to be a waste of time. Humor is something I enjoy, but not something that I understand easily, and I found Dirty Grandpa to be one of the funniest films, I've ever seen. You will not believe just how raunchy it gets or the lengths De Niro is prepared to go to in order to get some good laughs at his age. I too was thinking this film would be "okay" at best, but I was wrong, and so are my fellow critics. Dirty Grandpa is hysterical and those who are avoiding it due to bad reviews and similarities to other films, are really missing out.
Dirty Grandpa Quotes
Lenore: Rip my bra off like your ripping open your Social Security Check!
Jason Kelly: I dropped my phone.
Dick Kelly: I think it fell into the car's vagina.
Lenore: Woops, I guess they just slipped off.
Dick Kelly: She's not right for you, if you get married to her you'll be sleep walking the rest of your life.
Discussion Forum
Discuss Dirty Grandpa on our Movie forum!
News & Features