Don't Come Knocking
(2006)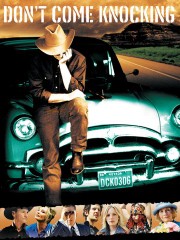 TOMATOMETER
AUDIENCE SCORE
Critic Consensus: The cinematography conjures beautifully evocative landscapes, but aside from that, the film is meandering and pointless.
Tickets & Showtimes
Don't Come Knocking Trailers & Photos
Movie Info
Howard Spence has seen better days. When he was younger he was a movie star, mostly in Westerns. At the age of 60, Howard uses drugs, alcohol and young girls to avoid the painful truth that there are only supporting roles left for him to play. After yet another night of debauchery in his trailer, Howard awakens in disgust to find that he is still alive, but that nobody in the world would have missed him if he had died. Howard gallops away on his movie horse in full cowboy regalia; fleeing from the film and his life. After a short trip to see his mom in Nevada, he heads to Butte, Montana, the location twenty five years earlier where Howard shot the movie that made him a star. There he visits and old flame and encounters some surprises from his past.
more
Cast
News & Interviews for Don't Come Knocking
Critic Reviews for Don't Come Knocking
Audience Reviews for Don't Come Knocking
The poetic journey of an aging cowboy who seeks for redemption and forgiveness. Wenders lyric take on an existencial drama, with exceptional and touching performances by Sam Shepard, Jessica Lange and Sarah Polley.
½
[font=Century Gothic]In "Don't Come Knocking", movie star Howard Spence(Sam Shepard, who also wrote the screenplay) rides a horse away from his latest picture, not quite into the sunset, leaving the crew in the lurch. Where he does end up eventually is the home of his mother(Eva Marie Saint) in Elko, Nevada. While getting into his usual trouble, he finds out about the son he fathered 25 years previously while working on a film in Montana.(He was probably having too much fun to keep up with the tabloids.)[/font]
[font=Century Gothic][/font]
[font=Century Gothic]And lukewarm on his trail is Sutter(Tim Roth), an employee of the film's insurance company, who is after Spence to complete the film.[/font]
[font=Century Gothic][/font]
[font=Century Gothic][/font]
[font=Century Gothic]"Don't Come Knocking" is an intriguing, slow and anachronistic(the filming of westerns regretfully being few and far between these days) movie that is reminiscent of "The Electric Horseman." The photography of the American West especially of Butte, Montana is beautiful. However, the movie does not live up to its full potential. Some of the fault lies with Sam Shepard who gives a wooden performance in the lead.(I know Spence is supposed to be sleepwalking through life but this is taking it a little too far.) But there is an eclectic cast, with Tim Roth and Sarah Polley coming off best, and a classic scene involving a couch.[/font]
[font=Century Gothic][/font]
[font=Century Gothic]The movie is mostly concerned with the difference between the world of movies and the real world. In the movies, we prefer our heroes to be pure and untainted whereas in real life, people are much more complex and flawed. Take Howard Spence, for example, who made a career of playing heroes in westerns while living a rather imperfect life off screen. [/font]
Don't Come Knocking Quotes
Sky: Why did you let so much time go by?
Howard Spence: I didn't know it was passing.
Sky: I think I like the movies better.
Doreen: Than what? Better than what?
Sky: Than real life.
Howard's Mother: Lying is for cowards.
Howard Spence: Mind if I turn the radio on?
Sutter: Yes, I do, as a matter of fact. I don't like outside influence.
Howard Spence: Outside?
Sutter: That's right. The world at large. It's a nasty place. Why allow it in? Livestalk reports, Navajo chanting, beheadings, bestiality. Nothing's changed. Black Death, the Inquisition, the Crusades, conquest of Mexico. What's changed?
Howard Spence: I was thinking...
Sutter: What?
Howard Spence: I don't know.
Sutter: Nothing's changed.
Howard Spence: Guess not.
Discussion Forum
Discuss Don't Come Knocking on our Movie forum!
News & Features